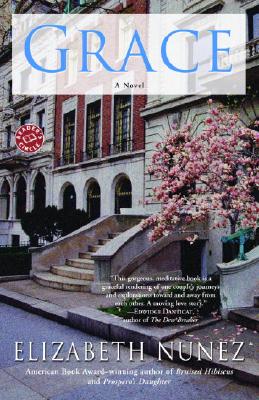 Grace (Paperback)
Ballantine Books, 9780345455345, 310pp.
Publication Date: February 28, 2006
* Individual store prices may vary.
or
Not Currently Available for Direct Purchase
Description
Justin Peters is a Harvard-educated professor of British and classic literature who reads Shakespeare to his four-year-old daughter, Giselle. A native of Trinidad and the product of a strict, English-style education, Justin and his focus on the works of Dead White Men receive little professional respect at the public Brooklyn college where he teaches. But whatever troubles he might have at work are eclipsed when he realizes his wife, Sally, has begun to pull away from him, both physically and emotionally.
Harlem-born Sally Peters, a mother on the verge of turning forty, is a primary school teacher who believes that joy is a learned skill, and that it takes strength to be happy. After a life of tragic losses, Sally thought she had finally found that strength when she met Justin.
But now, Sally wants something more. And Justin is angered by her uncertainty about their life and frightened by the thought that perhaps Sally never stopped loving the ex-boyfriend for whom she wrote fierce poems. Is he, Justin wonders, responsible for helping Sally find meaning in her life a life that seems to him most fortunate? If Sally and Justin's union is to survive, both must face the crippling echoes of their own pasts before those memories forever cloud and alter their future.
Set in a snow-covered Brooklyn, " Grace" is a thoughtful and lovely meditation on trust, redemption, and family. Elizabeth Nunez's delicate prose brings the struggles, aches, and tender moments of this contemporary urban love story into vivid focus.
"From the Hardcover edition.
About the Author
Elizabeth Nunez is the author of four novels, including" Discretion," " Beyond the Limbo Silence," and "Bruised Hibiscus," winner of an American Book Award. She was born in Trinidad and emigrated to the United States after secondary school. She is a Distinguished Professor of English at Medgar Evers College of the City University of New York. The Director of the National Black Writers Conference sponsored by the National Endowment for the Humanities for seventeen years, Nunez also chairs the PEN American Open Book Committee. A recipient of numerous awards and professional honors, Nunez lives in Amityville, New York. "From the Hardcover edition."
Advertisement