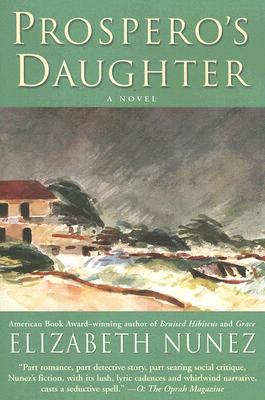 Prospero's Daughter (Paperback)
Ballantine Books, 9780345455369, 316pp.
Publication Date: September 12, 2006
Other Editions of This Title:
Hardcover (10/25/2016)
Paperback (11/1/2016)
* Individual store prices may vary.
Description
A spellbinding new novel from acclaimed author Elizabeth Nunez, Prospero's Daughter is a brilliantly conceived retelling of Shakespeare's The Tempest set on a lush Caribbean island during the height of tensions between the native population and British colonists. Addressing questions of race, class, and power, it is first and foremost the story of a boy and a girl who come of age and violate the ultimate taboo.
Cut off from the main island of Trinidad by a glistening green sea, Chacachacare has few inhabitants besides its colony of lepers and a British doctor who fled England with his three-year-old daughter, Virginia. An amoral genius, Peter Gardner had used his talents to unsavory ends, experimenting, often with fatal results, on unsuspecting patients. Blackmailed by his own brother, Peter ends up on the small island as England's empire is starting to crumble.
On Chacachacare, Peter experiments chiefly on the wild Caribbean flora and on the dark-skinned orphan Carlos, whose home he steals. Though Peter considers the boy no better than a savage, he nonetheless schools the child alongside his daughter. But as Carlos and Virginia grow up under the same roof, they become deeply and covertly attached to one another.
When Peter discovers the pair's secret and accuses Carlos of a heinous crime, it is up to a brusque, insensitive English inspector to discover the truth. During his investigation, a disturbing picture begins to emerge as a monstrous secret is finally drawn into the light.
"From the Hardcover edition.
About the Author
Elizabeth Nunez is the author of Grace, Discretion (short-listed for the 2003 Hurston Wright Legacy Award for Fiction), Beyond the Limbo Silence, Bruised Hibiscus (winner of an American Book Award), and When Rocks Dance. She was born in Trinidad and emigrated to the United States after secondary school. Nunez is a CUNY Distinguished Professor of English at Medgar Evers College. She co-founded the National Black Writers Conference, is executive producer of the acclaimed television series Black Writers in America (nominated for a 2004 NY Emmy), and now chairs the PEN American Center Open Book committee. Named Author of the Year by the Go On Girl Book Club for 2002, Nunez is the recipient of numerous awards and honors, including fellowships at the Yaddo and MacDowell colonies and the Paden Institute, the YWCA Woman of Distinction Award, and the Sojourner Truth Award from the National Association of Black Business. She lives in Amityville, New York.

"From the Hardcover edition."
Praise For Prospero's Daughter…
Advance praise for Prospero's Daughter

"[An] exquisite retelling of 'The Tempest'. . . . Masterful. . . . Simply wonderful."
–Kirkus Review (starred review)

"[Elizabeth] Nunez critiques colonialist assumptions about race and class in this ambitious reworking of The Tempest, set in her native Trinidad in the early 1960s. . . . [It has] strong themes and dramatic ironies. Readers will find her love story–which has a refreshingly happy ending–very sensitively told."
–Publishers Weekly

"A stunning achievement. With fluid, vivid writing, Elizabeth Nunez guides the reader through a magical and dangerous landscape. Beneath the unrelenting tropical sun, against the currents and tides of the sea, a Caribbean island of secrets and shadows is laid bare. This is a novel of thrilling twists and turns. In painterly prose, Nunez unveils a landscape tempered by colonialism, unmasks the colonizer, and lifts the curtain that has been drawn across history."
–Michelle Cliff, author of Free Enterprise


"Like Zadie Smith's On Beauty, Prospero's Daughter is a classic take on an enduring classic. Elizabeth Nunez takes us on a journey through the heart and murky underbelly of forbidden love. This is probably her finest work to date."
–Colin Channer, author of Passing Through
or
Not Currently Available for Direct Purchase