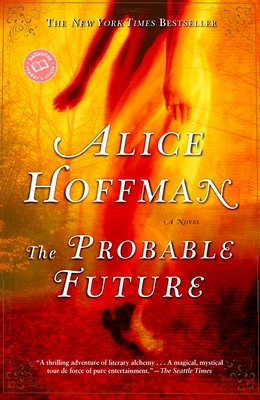 The Probable Future (Paperback)
A Novel
Ballantine Books, 9780345455918, 352pp.
Publication Date: June 1, 2004
Other Editions of This Title:
Paperback (8/1/2004)
MP3 CD (6/1/2004)
MP3 CD (2/24/2015)
Compact Disc (6/1/2003)
Compact Disc (6/26/2003)
Pre-Recorded Audio Player (11/1/2009)
MP3 CD, Abridged (5/7/2013)
Compact Disc (5/7/2013)
* Individual store prices may vary.
Description
Alice Hoffman's most magical novel to date—three generations of extraordinary women are driven to unite in crisis and discover the rewards of reconciliation and love. 

Women of the Sparrow family have unusual gifts. Elinor can detect falsehood. Her daughter, Jenny, can see people's dreams when they sleep. Granddaughter Stella has a mental window on the future—a future that she might not want to see. 

In The Probable Future this vivid and intriguing cast of characters confronts a haunting past—and a very current murder—against the evocative backdrop of small-town New England. By turns chilling and enchanting, The Probable Future chronicles the Sparrows's legacy as young Stella struggles to cope with her disturbing clairvoyance. Her potential to ruin or redeem becomes unbearable when one of her premonitions puts her father in jail, wrongly accused of homicide. Yet this ordeal also leads Stella to the grandmother she was forbidden to meet and to a historic family home full of talismans from her ancestors. 

Poignant, arresting, unsettling, The Probable Future showcases the lavish literary gifts that have made Alice Hoffman one of America's most treasured writers.

Praise for The Probable Future

"A thrilling adventure of literary alchemy . . . A magical, mystical tour de force of pure entertainment."—The Seattle Times

"Delicious . . . Hoffman is an unapologetic optimist, and optimism is in short supply these days. It feels like a vacation to curl up with [The Probable Future]."—The New York Times Book Review

"Instantly alluring . . . A mysterious, modern-day fairy tale . . . Hoffman is an amazingly talented writer with a beautiful sense of sentence construction, an intriguing imagination, and the ability to create compelling, complex characters that readers care about."—Fort Worth Star-Telegram 

"Hoffman's ethereal tale of a family of women with supernatural gifts is a magical escape, grounded in the complex relationships between mothers and daughters."—Marie Claire

About the Author
Alice Hoffman is the author of more than thirty works of fiction, including The Rules of Magic, Practical Magic, The Marriage of Opposites, The Red Garden, the Oprah's Book Club selection Here on Earth, The Museum of Extraordinary Things, and The Dovekeepers. She lives near Boston.
Praise For The Probable Future: A Novel…
"A thrilling adventure of literary alchemy . . . A magical, mystical tour de force of pure entertainment."—The Seattle Times

"Delicious . . . Hoffman is an unapologetic optimist, and optimism is in short supply these days. It feels like a vacation to curl up with [The Probable Future]."—The New York Times Book Review

"Instantly alluring . . . A mysterious, modern-day fairy tale . . . Hoffman is an amazingly talented writer with a beautiful sense of sentence construction, an intriguing imagination, and the ability to create compelling, complex characters that readers care about."—Fort Worth Star-Telegram

"Hoffman's ethereal tale of a family of women with supernatural gifts is a magical escape, grounded in the complex relationships between mothers and daughters."—Marie Claire

"Hoffman knows how to put magic into her novels, sometimes as an element of the plot; always in the quality of her writing."—The Hartford Courant

"The Probable Future dazzles with its bristling examination of life's trying tests of the women of the Sparrow family. The electrifying result is an under-the-microscope look at love, friendship, and the ties that blind and bind."—The Seattle Times

"[A] bewitching story of gifted women unlucky at love . . . Hoffman is now expert at sketching the New England landscape in the past and future, and the equally chilly psychological landscape of extraordinary women trapped in an ordinary word. . . . She shows a deft hand at tracing the movement from child to adult, showing an unusual ability to create sympathetic characters of all ages."—Richmond Times-Dispatch

"Hoffman has perfected her very own entrancing style of magical realism and mystical romance anchored to the moody, history-laden Massachusetts countryside. . . . Hoffman's newest cast of characters is unfailingly magnetic, from her eye-rolling teenagers to her wryly in-love seniors to her suddenly aflame fortysomethings, and the story she tells is as lush as it is suspenseful, as rich in earthy and sensuous detail as it is sweet and hopeful."—Booklist

"Hoffman is at her best, chronicling in meticulous and beautiful detail the ways the three Sparrow women are transformed . . . The characters are richly drawn, each idiosyncratically real and yet each just a bit of a sorceress."—Book magazine (four stars)

"Full-bodied, wholly absorbing characters . . . Hoffman's storytelling is as spellbinding as ever."—Publishers Weekly (starred review)

"Spellbinding . . . Of all the magical realists writing today, she may have the best sense of balance."—Portland Oregonian

"Filled with vivid . . . characters and cinematic descriptions of New England landscapes, this book will be a hit."—Library Journal

"[A] lyrical, magic-infused work . . . Another witches' brew of ethereal characters [and] lush settings."—Seattle Post-Intelligencer