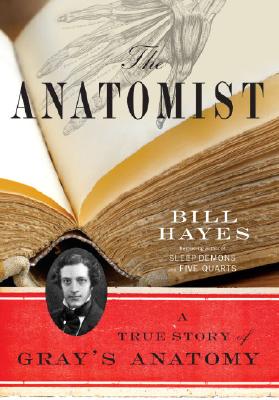 The Anatomist (Hardcover)
A True Story of Gray's Anatomy
Ballantine Books, 9780345456892, 250pp.
Publication Date: December 26, 2007
Other Editions of This Title:
Paperback (9/1/2009)
* Individual store prices may vary.
Description
"Hayes's history of the illustrated medical text "Gray's Anatomy" coincides with the hundred-and-fiftieth anniversary of its first publication. Fascinated by the fact that little was known about the famous book's genesis, Hayes combed through nineteenth-century letters and medical-school records, learning that, besides Henry Gray, the brilliant scholar and surgeon who wrote the text, another anatomist was crucial to the book's popularity: Henry Vandyke Carter, who provided its painstaking drawings. Hayes moves nimbly between the dour streets of Victorian London, where Gray and Carter trained at St. George's Hospital, and the sunnier classrooms of a West Coast university filled with athletic physical therapists in training, where he enrolls in anatomy classes and discovers that "when done well, dissection is very pleasing aesthetically." - The New Yorker "All laud and honor to Hayes....In perusing the body's 650 muscles and 206 bones, he has made the case that we are, as the psalmist wrote, "fearfully and wonderfully made" and that dissection has an aesthetic all its own. The act of carving open a body becomes, in this context, a perverse act of love, a desecration that consecrates "the extraordinary, the inner architecture of the human form." - The Washington Post "How do you write a book about someone about whom next to nothing is known? For most writers, the answer would be move on to the next subject. But Bill Hayes has an unusual set of skills. The author of previous books on insomnia and blood, he is part science writer, part memoirist, part culture explainer. "The Anatomist," his appealing new book about the man behind Gray's Anatomy, combines his search for the remaining traces of Henry Gray with a memoir of his own experience as a dissection student and a scalpel's-eye tour of the body." - The New York Times "Some of Hayes's] most memorable writing describes the dissection classes he attended in San Francisco. We are treated to a selection of fascinating anatomical snippets about, for example, how to trace evidence of the sealed hole in the fetal heart through which the mother's blood enters; or how to find the kidney in a cadaver; or that blood flowing out of the heart is first used to feed the heart itself; or, best of all, a structural analysis of how the Queen manages to deliver such a uniquely restrained wave." - Nature: The International Weekly Journal of Science The classic medical text known as Gray's Anatomy is one of the most famous books ever written. Now, on the 150th anniversary of its publication, acclaimed science writer and master of narrative nonfiction Bill Hayes has written the fascinating, never-before-told true story of how this seminal volume came to be. A blend of history, science, culture, and Hayes's own personal experiences, The Anatomist is this author's most accomplished and affecting work to date. With passion and wit, Hayes explores the significance of Gray's Anatomy and explains why it came to symbolize a turning point in medical history. But he does much, much more. Uncovering a treasure trove of forgotten letters and diaries, he illuminates the astonishing relationship between the fiercely gifted young anatomist Henry Gray and his younger collaborator H. V. Carter, whose exquisite anatomical illustrations are masterpieces of art and close observation. Tracing the triumphs and tragedies of these two extraordinary men, Hayes brings an equally extraordinary era-the mid-1800s-unforgettably to life. But the journey Hayes takes us on is not only outward but inward-through the blood and tissue and organs of the human body-for The Anatomist chronicles Hayes's year as a student of classical gross anatomy, performing with his own hands the dissections and examinations detailed by Henry Gray 150 years ago. As Hayes's acquaintance with death deepens, he finds his understanding and appreciation of life deepening in unexpected and profoundly moving ways. The Anatomist is more than just the story of a book. It is the story of the human body, a story whose beginning and end we all know and share but that, like all great stories, is infinitely rich in between.
About the Author
The recipient of a Guggenheim Fellowship in nonfiction, Bill Hayes is a frequent contributor to The New York Times and the author of four books: Sleep Demons: An Insomniac's Memoir, Five Quarts: A Personal and Natural History of Blood, The Anatomist: A True Story of Gray's Anatomy, and Insomniac City: New York, Oliver, and Me (coming February 2017), and is currently at work on a new book Sweat: A History of Exercise. A photographer as well as a writer, his photos have appeared in The New Yorker, Vanity Fair, Granta, The Wall Street Journal, and on CBS Evening News. His portraits of his partner, the late Oliver Sacks, appear in the recent collection of Dr. Sacks's suite of final essays Gratitude. Hayes has been a visiting scholar at the American Academy in Rome, the recipient of a Leon Levy Foundation grant, and a Resident Writer at Blue Mountain Center. He has also served as a guest lecturer at Stanford, NYU, UCSF, University of Virginia, and the New York Academy of Medicine.
Praise For The Anatomist: A True Story of Gray's Anatomy…
Advance praise for The Anatomist

"In his cunningly structured, beautifully written anatomy of Gray's Anatomy, Bill Hayes dissects the body's secrets, the lives of two great nineteenth-century explorers of those secrets–and some of his own obsession as well. A lovely book."
–Andrea Barett, author of Ship Fever

"Bill Hayes has written a thrilling book that is simultaneously an autobiography, a biography of Henry Gray, a scientific essay on our human anatomy, and a heart-breaking elegy. I do not know another book like it."
–Richard Rodriguez, author of Hunger of Memory

"The Anatomist is many things: a study of the body after life has left it, a chronicle of scientists obsessed with the subject, and, in a heartbreakingly personal way, a memoir. It is also a reflection about how little was known about disease not that long ago. Finally, it is a biography of an anxious, neurotic, enormously sympathetic young anatomist from another time who changed medicine. This is a wonderful book."
–Robert M. Sapolsky, author of A Primate's Memoir

"Hayes pays eloquent tribute to two masterpieces: the human body and the book detailing it. . . . [He balances] biographical chapters with his own experience in the anatomy classroom, dissecting cadavers and marveling at each new discovery with prose both lucid and arrestingly beautiful."
–Publishers Weekly
or
Not Currently Available for Direct Purchase