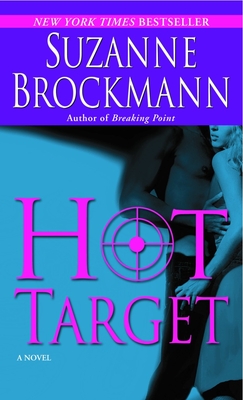 Hot Target (Mass Market Paperbound)
Ballantine Books, 9780345456953, 534pp.
Publication Date: November 29, 2005
Description
Bestselling author Suzanne Brockmann knows exactly what makes hearts race and pulses pound: peril and passion. No one succeeds more brilliantly at blending these exhilarating elements in breathtaking novels of men and women forced to grapple with the deepest emotions and the highest risks. And there's no better proof than Hot Target.

Like most men of action, Navy SEAL Chief Cosmo Richter never learned how to take a vacation. So when he finds himself facing a month's leave, he offers his services to Troubleshooters Incorporated. Founded by a former SEAL, the private-sector security firm is a major player in the ongoing war against terrorism, known for carrying out covert missions too volatile for official U.S. military action. But the first case Richter takes on is anything but under the radar.
High-profile maverick movie producer Jane Mercedes Chadwick hasn't quite completed her newest film, but she's already courting controversy. The World War II epic frankly portrays the homosexuality of a real-life hero-and the storm of advance media buzz surrounding it has drawn the fury of extremist groups. But despite a relentless campaign of angry E-mails, phone calls, and smear tactics, Chadwick won't be pressured into abandoning the project. Then the harassment turns to death threats.
While the FBI appears on the scene, nervous Hollywood associates call in Troubleshooters, and now Chadwick has an army of round-the-clock bodyguards, whether she likes it or not. And she definitely doesn't. But her stubbornness doesn't make FBI agent Jules Cassidy's job any easier. The fiercely independent filmmaker presents yet another emotional obstacle that Cassidy doesn't need-he's already in the midst of a personal tug-of-war with his ex-lover, while fighting a growing attraction to Chadwick's brother.
Determined to succeed-and survive-on her own terms, Chadwick will face off with enemies and allies alike. But she doesn't count on the bond she forms with the quiet, capable Cosmo Richter. Yet even as their feelings bring them closer, the noose of deadly terror all around them draws tighter. And when all hell erupts, desire and desperate choices will collide on a killing ground that may trap them both in the crossfire.
From the Hardcover edition.
About the Author
After childhood plans to become the captain of a starship didn't pan out, Suzanne Brockmann took her fascination with military history, her respect for the men and women who serve, her reverence for diversity, and her love of storytelling and explored brave new worlds as a New York Times bestselling romance author. Over the past twenty years, she has written more than fifty novels, including her award-winning Troubleshooters series about Navy SEAL heroes and the women--and sometimes men--who win their hearts. In addition to writing books, Suzanne Brockmann has co-produced a feature-length movie, the award-winning romantic comedy The Perfect Wedding, which she co-wrote with her husband, Ed Gaffney, and their son, Jason. She has also co-written a YA novel, set in the world of her paranormal Fighting Destiny series, with her daughter, Melanie. Find Suzanne Brockmann on Facebook, follow her on Twitter, and visit her website to find out more about upcoming releases and appearances.
Praise For Hot Target…
PRAISE FOR SUZANNE BROCKMANN

Gone Too Far
"Sizzling with military intrigue and sexual tension, with characters so vivid they leap right off the page, Gone Too Far is a bold, brassy read with a momentum that just doesn't quit."
–TESS GERRITSEN

Into the Night
"She skillfully builds suspense. . . . With its complicated, complex characters and a sexy romance seasoned with humor and danger, Brockmann's [novel] is absolutely irresistible."
–Booklist (boxed and starred review)

Out of Control
"Brockmann consistently turns out first-rate novels that tug on the reader's heartstrings, and her latest is no exception."
–Publishers Weekly

Over the Edge
"A taut, edgy thriller."
–LINDA HOWARD
Advertisement