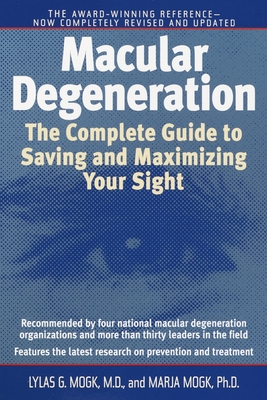 Macular Degeneration (Paperback)
Ballantine Books, 9780345457110, 480pp.
Publication Date: January 1, 2003
Description
The acclaimed book on macular degeneration--now completely revised and updated with cutting edge research and the latest developments in the field. More than fifteen million Americans have age-related macular degeneration (AMD), and the disease will strike 200,000 more people this year. It is the most prevalent cause of vision loss in the western world. Dr. Lylas Mogk, the founding director of the Visual Rehabilitation and Research Center of the Henry Ford Health System, has a unique professional and personal understanding of AMD. A doctor and loving daughter of a parent with this frightening though manageable condition, Mogk here explains exactly what it is and how to limit its effect on your life. Reassuring and comprehensive--complete with illuminating first person stories of people with AMD--Macular Degeneration will help you or someone you love with information on - Reducing your risk factors
- Revolutionary new technology, including laser surgery and alternative treatments
- New research discoveries in nutrition--and eye-healthy recipes
- The latest low-vision computer software programs
- Coping with depression and frustration
- Active online communities of people with macular degeneration Plus a Low Vision Living Rehab program to help you read better, see better, and live independently
About the Author
Lylas G. Mogk, M.D., is a practicing ophthalmologist and founding Director of the Visual Rehabilitation and Research Center of Michigan, part of the Henry Ford Health System. Dr. Mogk is a member of the American Academy of Ophthalmology's Low Vision Rehabilitation Committee. She lives in Grosse Pointe with her husband, John, and her father, Charles R. Good, who has advanced macular degeneration. Despite his severe vision loss, Dr. Mogk's father lives a full and active life following the principles presented in this book. Marja Mogk is a freelance writer and editor based in Berkeley, California. She worked for several years in social welfare counseling and maintains an active interest in this field. She is Lylas and John Mogk's daughter.
Praise For Macular Degeneration…
"This is one of the rare books in low vision that I could not put down once I started reading. This book should be read by everyone with macular degeneration, as well as their families, friends, and doctors. . . . It will be required reading for all my residents."
—RANDALL JOSE, O.D.
Director, Houston Delta Gamma Low Vision Center
Editor, Understanding Low Vision

"An outstanding book—not only educational but inspirational. Everyone with macular degeneration, their family members, and all eye care professionals should have a copy."
—JOEL A. KRAUT, M.D.
Medical Director, Vision Rehabilitation Service
Massachusetts Eye and Ear Infirmary
Harvard Medical School

"This book should be read, highlighted, and used as a guide by everyone who has macular degeneration, or is at risk of developing it."
—ROBERT W. MASSOF, Ph.D.
Director, Lions Vision Research and
Rehabilitation Center
Johns Hopkins University
Advertisement