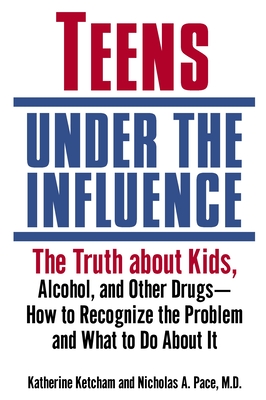 Teens Under the Influence (Paperback)
The Truth About Kids, Alcohol, and Other Drugs- How to Recognize the Problem and What to Do About It
Ballantine Books, 9780345457349, 432pp.
Publication Date: August 26, 2003
* Individual store prices may vary.
Description
Across the United States, in small towns and major cities, in suburbs and slums, in public and private schools, thousands of kids are experimenting with drugs. Many of them will become addicts; some will die. The first and only book to focus entirely on adolescent alcohol and other drug use, Teens Under the Influence addresses the immediate dangers that threaten these kids—exploring the short- and long-term effects of their addiction and giving parents solid, sensitive, practical advice to combat this growing epidemic.

Knowledge is the key to defeating drug addictions, and that is what this comprehensive, timely new book provides. Full of candid true stories from adolescent drug users, with facts based on the most recent scientific research, Teens Under the Influence tells you exactly what you need to know to deal with your child's problem, covering such important topics as

• The common myths and misconceptions about drug addiction
• The crucial differences between adult and adolescent dependency
• The reasons kids get hooked
• The stages of adolescent addiction
• The different kinds of drugs kids use and combine
• Various treatment options and how to choose the best treatment for your child
• Strategies for handling relapses

Teens Under the Influence offers practical help that may save your child's life. It may save the life of a friend. And it may save your own.
About the Author
Katherine Ketcham has been writing nonfiction books for forty years. Her work has been published in sixteen foreign languages and has sold nearly one million copies. She founded and serves on the board of a grassroots nonprofit organization called Trilogy Recovery Community, which helps youth and their family members dealing with alcohol and other drug problems. Ketcham lives in Walla Walla, Washington.

Nicholas A. Pace, MD, is the author of Guidelines to Safe Drinking and the co-author of Teens Under the Influence. An associate professor of medicine at New York University's School of Medicine, a life member of the board of directors of the National Council on Alcoholism and Drug Dependence, and a fellow of the American Society of Addiction Medicine, he was an advisor to President Ford's White House physician and assisted First Lady Nancy Reagan with the Chemical People Project. He lives in Westchester County, New York, and maintains a private practice in New York City.
Praise For Teens Under the Influence: The Truth About Kids, Alcohol, and Other Drugs- How to Recognize the Problem and What to Do About It…
"My son relapsed one day after he was released from a 28-day treatment program. Was it the wrong kind of treatment? Does he need psychological help? What do I do now?"
—Mother of a sixteen-year-old

"Many parents are already aware of the horrific problem young Americans have with binge drinking, but it's time to spread the alarm."
—Editorial, The New York Times

"Parents are so in need of this help. Physicians and other health care providers absolutely need this book!"
—JAMES W. WEST, M.D., Former Medical Director
Betty Ford Center

More praise for Teens Under the Influence

"Year after year the Gallup Polls show how devastating alcohol and other drug addictions are to individuals and our society as a whole. The new big threat is adolescent drug use and addiction, a problem that affects our society at all levels. Teens Under the Influence will be welcomed and applauded by parents, educators, judges, probation officers, and adolescents themselves. It will be a wonderful teaching tool, helping us to educate our children and ourselves about the facts, eliminating the many myths that cloud our thinking, and helping to eradicate the stigma of alcohol and other drug addictions."
—GEORGE GALLUP, Chairman
The George H. Gallup International Institute
Princeton, New Jersey

"It is difficult to overestimate the importance and severity of adolescent alcohol and drug addiction, which is growing continually and also contributing to an increased rate of adolescent suicide. Strong parental leadership can make an enormous difference, but many parents do not know how to asserts that kind of positive influence. Teens Under the Influence will save lives."
—ROBERT CANCRO, M.D.
Lucius N. Littauer Professor of Psychiatry
and Department Chair, NYU School of Medicine