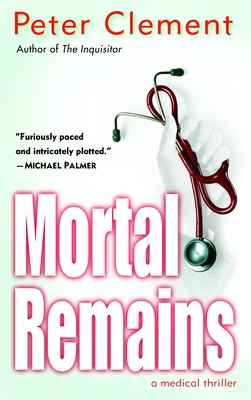 Mortal Remains
A Medical Thriller (Dr. Earl Garnet #4)
Mass Market

* Individual store prices may vary.
Description

In a small upstate New York town, an idyllic lake yields a ghastly discovery when the skeletal remains of a young woman missing for twenty-seven years are pulled from the icy depths—along with unmistakable evidence of her murder. Suddenly, the long-dormant case of Kelly McShane Braden's mysterious disappearance is reactivated. And for two devastated men, dark emotions and disturbing secrets will also rise to the surface.

For local coroner Dr. Mark Roper, the murder is more than just a grim interruption of his general practice in sleepy Hampton Junction. Kelly Braden had been a surrogate sister. When the police insist the trail of Kelly's disappearance is too cold to pick up again, he vows to find the missing pieces of the past that will lead him to a killer. Because that's what cracks cold cases: "One guy who can't get it out of his head."

Yet Mark isn't the only one with Kelly's murder on his mind. Dr. Earl Garnet, chief of staff at Buffalo's St. Paul's Hospital, was once Kelly's secret lover . . . and would-be savior. Until his plans to rescue her from an abusive marriage were cut short by her vanishing. Now, as the last person to see Kelly alive, he's in danger of becoming the prime suspect, unless he can unmask the murderer first.

But neither man knows about the twisted chain of lies and corruption that led to Kelly's death—or the shocking revelations that were meant to go with her to a watery grave. And the harder they push for answers, the easier they make it for their lethal quarry to zero in on them—and push back with deadly force.



With Mortal Remains, Peter Clement remains in total control of readers' nerves from the very first page, once more wielding heart-racing suspense and scalpel-sharp terror with a master surgeon's skill.
Praise For Mortal Remains: A Medical Thriller (Dr. Earl Garnet #4)…
PRAISE FOR PETER CLEMENT

Mortal Remains

"Peter Clement's Mortal Remains is furiously paced and intricately plotted. I really cared about these characters and what happens to them. There is no higher praise I can give to anyone's writing."
—MICHAEL PALMER

"Written with impressive authority, Peter Clement's medical thriller Mortal Remains is tautly plotted and packed with panache."
—JOHN CASE

Critical Condition
"Clement's twenty years as an emergency physician and family doctor result in novels of stunning suspense grounded by an insider's view of medical science."
—The Toronto Star

Mutant
"Steeped in the thriller traditions of John Saul, Dean Koontz, and Stephen King: pulse-quickening action, a sub-plot of good versus evil, smatterings of blood here and there and a hero's race against certain disaster."
—Doctor's Review

The Procedure
"More than a piece of compelling fiction, The Procedure is a cautionary tale . . . An exciting and original story, well told."
—NELSON DEMILLE

Lethal Practice
"ER meets Agatha Christie as Buffalo doctor Earl Garnet is suspected of murder via a cardiac needle. Heart-pounding suspense, indeed!"
—Entertainment Weekly

Ballantine Books, 9780345457790, 432pp.
Publication Date: December 28, 2004
About the Author
Peter Clement, M.D., is a physician who headed an emergency room at a major metropolitan hospital. He is also the author of Critical Condition, Mutant, The Procedure, Death Rounds, and Lethal Practice. He is married to a physician and has two sons.
or
Not Currently Available for Direct Purchase