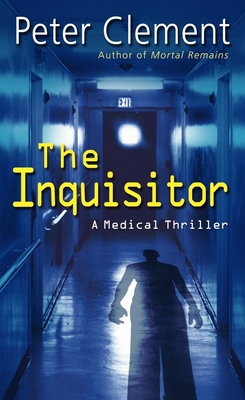 The Inquisitor (Paperback)
A Medical Thriller (Dr. Earl Garnet #5)
Fawcett, 9780345457813, 384pp.
Publication Date: December 27, 2005
* Individual store prices may vary.
Description
It's spring in Buffalo, New York. At sprawling St. Paul's Hospital, new interns rush through the halls, staff doctors scramble to catch their protégés' mistakes, and everyone is aware of one unrelenting threat: A new and vicious strain of severe acute respiratory syndrome (SARS) has hit America hard and is menacing the hospital like a wolf at the door. Wrapped in spacesuit-like garb to search for every possible source of infection, the hospital staff desperately tries to protect the lives of patients–and of each other. Yet despite St. Paul's best efforts, people are dying.

In this chilling medical landscape, no one notices the slight spike in the death rate in a palliative care ward. The prevailing attitude is "They're supposed to die. That's why we call them terminal." When these same patients complain of terrifying near-death experiences, the hospital staff attributes it to delirium caused by medication. But when ER chief Dr. Earl Garnet gets blamed for the unexpected death of a patient, he defies protocol and opens an independent investigation. He quickly becomes suspicious that something far more sinister than disease is killing the hospital's most vulnerable patients.

For Garnet, looking into the deaths means rattling relationships that have been built over years–relationships with several men and women he once trusted but now must doubt. With the SARS epidemic spinning out of control and a storm of suspicion, fear, and mistrust raging through the corridors of St. Paul's, the hospital is rocked by a horrifying crime: A respected researcher is found brutally murdered. And his executioner may be ready to strike again.

With brilliant pacing, scalpel-sharp suspense, and an unmatched knowledge of the workings of a big-city hospital, Peter Clement is a thriller writer in a league of his own. In his new work, he takes us on a galvanizing, frightening, and constantly fascinating journey set on the front lines of medicine–where some dangers can be prevented and others can only be feared.


From the Hardcover edition.
About the Author
PETER CLEMENT, M.D., is a physician who headed an emergency room at a major metropolitan hospital. He is also the author of Mortal Remains, Critical Condition, Mutant, The Procedure, Death Rounds, and Lethal Practice. He is married to a physician and has two sons.


From the Hardcover edition.
Praise For The Inquisitor: A Medical Thriller (Dr. Earl Garnet #5)…
Praise for Peter Clement

Mortal Remains
"Furiously paced and intricately plotted. I really cared about these characters and what happens to them. There is no higher praise I can give to anyone's writing."
–MICHAEL PALMER

Critical Condition
"Clement's twenty years as an emergency physician and family doctor result in novels of stunning suspense grounded by an insider's view of medical science."
–The Toronto Star

Mutant
"Steeped in the thriller traditions of John Saul, Dean Koontz, and Stephen King: pulse-quickening action, a subplot of good versus evil, smatterings of blood here and there, and a hero's race against certain disaster."
–Doctor's Review


The Procedure
"More than a piece of compelling fiction, The Procedure is a cautionary tale . . . An exciting and original story, well told."
–NELSON DEMILLE

Lethal Practice
"ER meets Agatha Christie as Buffalo doctor Earl Garnet is suspected of murder via a cardiac needle. Heart-pounding suspense, indeed!"
–Entertainment Weekly


From the Hardcover edition.
or
Not Currently Available for Direct Purchase