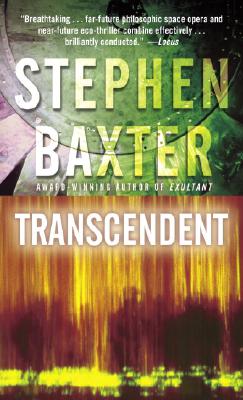 Transcendent (Destiny's Children #3) (Mass Market)
Del Rey, 9780345457929, 512pp.
Publication Date: July 25, 2006
* Individual store prices may vary.
Description
"Breathtaking . . . brilliantly conducted . . . Far-future philosophic space opera and near-future eco-thriller combine effectively."—Locus

It is the year 2047, and nuclear engineer Michael Poole is mourning the death of his beloved wife and doubting his own sanity. But he must stave off a looming catastrophe: vast reservoirs of toxic gases lie beneath the melting poles, threatening to contaminate the atmosphere and destroy all life on Earth.

Though born five hundred thousand years after the death of Michael Poole, Alia knows him intimately. Every person in Alia's world is entrusted with Witnessing one life from the past by means of a technology able to traverse time. Alia's subject is Michael Poole. Chosen to become a Transcendent, a member of the group mind that is shepherding humanity toward an evolutionary apotheosis, Alia discovers a dark side to the Transcendent's plans. Somehow, Michael holds the fate of the future in his hands, and to save that future, Alia must undertake a desperate journey into the past.
"Stunning . . . engaging . . . a contrasting mix of Baxter's customary skill at presenting a very realnear future, and his talent for high-level hardscience fiction."—Starburst 
About the Author
Stephen Baxter is a trained engineer with degrees from Cambridge (mathematics) and Southampton (doctorate in aeroengineering research) universities. Baxter is the winner of both the British Science Fiction Award and the Locus Award, and has been a nominee for an Arthur C. Clarke Award, most recently for Manifold: Time. He has also won the John W. Campbell Award and the Philip K. Dick Award for his novel The Time Ships. He is the coauthor (with Arthur C. Clarke) of Time's Eye and Sunstorm.
Praise For Transcendent (Destiny's Children #3)…
"Breathtaking . . . brilliantly conducted . . . Far-future philosophic space opera and near-future eco-thriller combine effectively."—Locus

"Stunning . . . engaging . . . a contrasting mix of Baxter's customary skill at presenting a very realnear future, and his talent for high-level hardscience fiction."—Starburst 
or
Not Currently Available for Direct Purchase