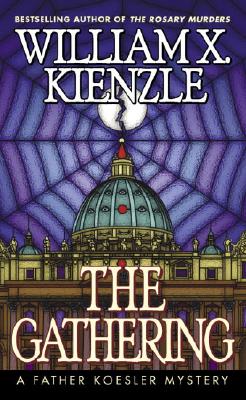 The Gathering (Paperback)
Fawcett, 9780345457943, 304pp.
Publication Date: December 30, 2003
Other Editions of This Title:
Hardcover (3/1/2002)
* Individual store prices may vary.
Description
Way back in the 1940s, they had all been young together. Inseparable pals Mike and Manny, both preparing for the priesthood . . . Mike's beautiful twin sister, Rose, and her best friend Alice, sharing a dream of becoming nuns . . . shy altar boy Stanley and everybody's good friend, Bob Koesler, also headed for the priesthood. Six Detroit adolescents moving step by measured step into the bosom of the church. Or so they believed.

Now, more than fifty years later, one of the six has died a sudden, violent death, and Father Bob Koesler—these days a retired parish priest—is sadly suspicious that someone in this tiny band of lifelong friends may be responsible. But who and why? Before long, Koesler has reason to believe he knows the shocking answer. . . .
About the Author
William X. Kienzle, author of more than twenty Father Koesler mysteries, spent twenty years as a parish priest. After leaving the priesthood, he became editor of MPLS magazine in Minneapolis and later moved to Texas, where he was director of the Center for Contemplative Studies at the University of Dallas. Kienzle died in December 2001.
Praise For The Gathering…
"This highly intelligent, wonderfully human, and compassionate novel is a reminder of how good a writer [Kienzle] could be. . . . This thought-provoking last hurrah will provide rich spiritual satisfaction."
—Publishers Weekly

"FATHER KOESLER IS ON THE CASE, THANK GOD."
—The Baltimore Sun

"William Kienzle is the Harry Kemelman of Catholicism. . . . Robert Koesler is the Detroit response to Rabbi Small."
—Los Angeles Times

"As Kienzle addresses serious modern issues, he stops to digress and tell his wonderful stories . . . providing a neat solution with a twist."
—The Philadelphia Inquirer

"There are few authors whose books a reader anticipates from the moment he finishes the last effort. . . . Add William X. Kienzle to that list."
—Dallas Times Herald

"As regular as the solstice, the former priest annually provides a new Catholic whodunit from Detroit, inviting readers to shut out the rest of the world and spend a few absorbing hours watching his venerable alter ego, Koesler, peel back the layers of a puzzle to plumb the tortured depths of the human soul and elegantly solve a mystery."
—Chicago Tribune

"One of America's foremost mystery writers . . . [His] characters bring to mind the early novels of Graham Greene."
—Knoxville News-Sentinel

or
Not Currently Available for Direct Purchase