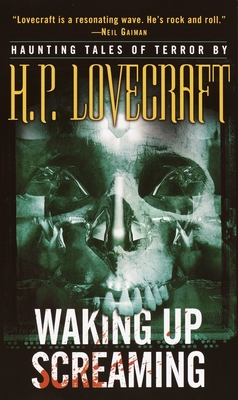 Waking Up Screaming: Haunting Tales of Terror (Mass Market Paperbound)
Haunting Tales of Terror
Del Rey Books, 9780345458292, 384pp.
Publication Date: January 1, 2003
Description
"The oldest and strongest emotion of mankind is fear, and the oldest and strongest kind of fear is fear of the unknown."
-H. P. LOVECRAFT

Welcome to the world of H. P. Lovecraft, the undisputed master of terror. His work has inspired countless nightmares, and this collection of some of his most chilling stories is likely to inspire even more. Cool Air-An icy apartment hides secrets no man dares unlock.
The Case of Charles Dexter Ward-Ward delves into the black arts and resurrects the darkest evil from beyond the grave.
The Terrible Old Man-The intruders seek a fortune but find only death.
Herbert West-Reanimator-Mad experiments yield hideous results in this bloodcurdling tale, the inspiration for the cult film Re-Animator.
The Shadow Over Innsmouth-A small fishing town's population is obscenely corrupted by a race of fiendish undersea creatures.
The Lurking Fear-An upstate New York clan degenerates into thunder-crazed mole like creatures with a taste for human flesh. PLUS TEN OTHER SPINE-TINGLING TALES

About the Author
H. P. Lovecraft lived his life in the moody New England that was the setting for his tales. His writing appeared in some of the most famous "pulp" magazines, but no book of his work was published in his lifetime, and so Lovecraft died in relative poverty and obscurity. Since then he has been recognized as one of the most influential cult horror writers of this century. His influence on American horror has extended to Stephen King, Anne Rice, Clive Barker, and many others.
Advertisement