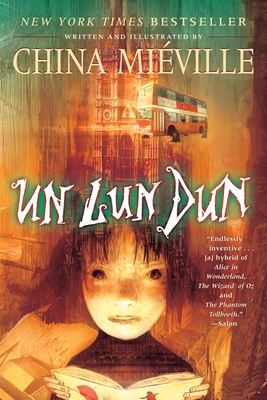 Un Lun Dun
Paperback

* Individual store prices may vary.
Other Editions of This Title:
Prebound (1/1/2008)
Description
NEW YORK TIMES BESTSELLER • "Endlessly inventive . . . [a] hybrid of Alice in Wonderland, The Wizard of Oz, and The Phantom Tollbooth."—Salon

What is Un Lun Dun?

It is London through the looking glass, an urban Wonderland of strange delights where all the lost and broken things of London end up . . . and some of its lost and broken people, too–including Brokkenbroll, boss of the broken umbrellas; Obaday Fing, a tailor whose head is an enormous pin-cushion, and an empty milk carton called Curdle. Un Lun Dun is a place where words are alive, a jungle lurks behind the door of an ordinary house, carnivorous giraffes stalk the streets, and a dark cloud dreams of burning the world. It is a city awaiting its hero, whose coming was prophesied long ago, set down for all time in the pages of a talking book.

When twelve-year-old Zanna and her friend Deeba find a secret entrance leading out of London and into this strange city, it seems that the ancient prophecy is coming true at last. But then things begin to go shockingly wrong.

Praise for Un Lun Dun

"Miéville fills his enthralling fantasy with enough plot twists and wordplay for an entire trilogy, and that is a good thing. A-."—Entertainment Weekly 

"For style and inventiveness, turn to Un Lun Dun, by China Miéville, who throws off more imaginative sparks per chapter than most authors can manufacture in a whole book. Mieville sits at the table with Lewis Carroll, and Deeba cavorts with another young explorer of topsy-turvy worlds."—The Washington Post Book World 

"Delicious, twisty, ferocious fun . . . so crammed with inventions, delights, and unexpected turns that you will want to start reading it over again as soon as you've reached the end."—Kelly Link, author of Magic for Beginners

"[A] wondrous thrill ride . . . Like the best fantasy authors, [Miéville] fully realizes his imaginary city." —The A.V. Club

"Mieville's compelling heroine and her fantastical journey through the labyrinth of a strange London forms that rare book that feels instantly like a classic and yet is thoroughly modern."—Holly Black, bestselling author of The Spiderwick Chronicles
Praise For Un Lun Dun…
"It hardly seems possible that I didn't read this novel and love it at age 12, it brought back so vividly the long, book-drunk days of my late childhood. Like the best children's fiction, Un Lun Dun seems to have always been there waiting to be discovered. Finding it as a grown-up may not be the optimum way to stumble into UnLondon, but it's pretty miraculous all the same."—Salon 

"Give [Un Lun Dun] to a kid (and borrow it when they're done). It just might help them grow up into the kind of nerd we need a lot more of—one who thinks they can save the world with sheer ingenuity."—Wired magazine

"Miéville has done us a favor by creating a protagonist who was most assuredly not chosen to save the day, and it's an excellent turn of events. There are some icky gruesome baddies and the good guys are often a lot of fun."—January Magazine

"[Miéville] relies on his formidable storytelling skill for this lengthy yet swiftmoving tale that, with a wink and a nod, cuts through archetypal notions of fate and prophecy. Highly recommended for Neil Gaiman and Clive Barker fans especially."—Publishers Weekly (starred review)

"The most thoroughly playful tale Miéville has written."—Locus magazine

"A multifaceted romp through a world many of us would love to visit."—Pittsburgh Post-Gazette

"Full of clever word play and compelling characters, Miéville's novel is a tour de force. This rollicking, fantastical and altogether incredible novel will appeal to both adults and young readers."—Romantic Times

"Whimsy, wondrous images . . . There are few more fascinating world builders than China Miéville. . . . His powers of invention seem boundless . . . his sensitivity to language immense."—The Magazine of Fantasy & Science Fiction
 
"A book which shows the world as it truly is: full of marvels and monsters and unexpected opportunities for heroism and magic. Un Lun Dun is delicious, twisty, ferocious fun, a book so crammed with inventions, delights, and unexpected turns that you will want to start reading it over again as soon as you've reached the end."—Kelly Link, author of Stranger Things Happen and Magic for Beginners 
Del Rey, 9780345458445, 496pp.
Publication Date: January 29, 2008
About the Author
China Miéville is the author of King Rat; Perdido Street Station, which won the Arthur C. Clarke Award and the British Fantasy Award; The Scar, which won the Locus Award and the British Fantasy Award; Iron Council, which won the Locus Award and the Arthur C. Clarke Award; and a collection of short stories, Looking for Jake. He lives and works in London. Un Lun Dun is his first book for younger readers.