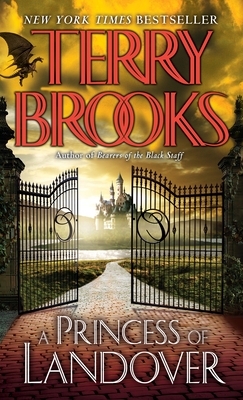 A Princess of Landover (Mass Market Paperbound)
Del Rey Books, 9780345458537, 381pp.
Publication Date: July 27, 2010
Description
Ben Holiday, mere mortal turned monarch of the magic kingdom of Landover, has grappled with numerous contenders for his throne, but nothing could have prepared him for the most daunting of challengers: his headstrong teenage daughter, Mistaya. After getting suspended from an exclusive private school in our world, Mistaya is determined to resume her real education--learning sorcery from court wizard Questor Thews--whether her parents like it or not. Then, horrified that a repulsive Landover nobleman seeks to marry her, Mistaya decides that the only way to run her own life is to run away from home. So begins an eventful odyssey peppered with a formidable dragon, recalcitrant Gnomes, an inscrutable magic cat, a handsome librarian, a sinister sorcerer, and more than a few narrow escapes as fate draws Landover's intrepid princess into the thick of a mystery that will put her mettle to the test--and possibly bring the kingdom to its knees.

About the Author
Terry Brooks has thrilled readers for decades with his powers of imagination and storytelling. He is the author of more than thirty books, most of which have been New York Times bestsellers. He lives with his wife, Judine, in the Pacific Northwest.
Praise For A Princess of Landover…
 
"Sweet, charming and skillful . . . an enjoyable journey, a helluva ride."—January magazine 
 
"Fans of Brooks's magic kingdom of Landover will welcome this title. . . . There are plenty of treats."—Publishers Weekly
 
"Fun and engaging."—Kirkus Reviews
Advertisement