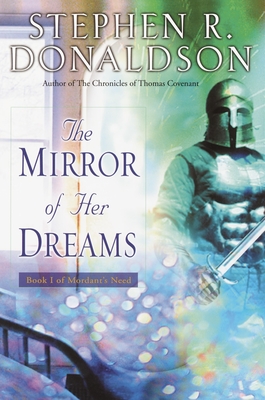 The Mirror of Her Dreams (Paperback)
Del Rey Books, 9780345459855, 654pp.
Publication Date: June 3, 2003
Description
With The Chronicles of Thomas Covenant, Stephen R. Donaldson changed the face of fantasy fiction forever. In The Mirror of Her Dreams, the astonishing first novel in the two-volume Mordant's Need series, Donaldson shows us a world of wondrous beauty and seductive illusion, where mirrors hold the deadliest of magics and nothing is what it seems. . . . The daughter of rich but neglectful parents, Terisa Morgan lives alone in a New York City apartment, a young woman who has grown to doubt her own existence. Surrounded by the flat reassurance of mirrors, she leads an unfulfilled life--until the night a strange man named Geraden comes crashing through one of her mirrors, on a quest to find a champion to save his kingdom of Mordant from a pervasive evil that threatens the land. Terisa is no champion. She wields neither magic nor power. And yet, much to her own surprise, when Geraden begs her to come back with him, she agrees. Now, in a culture where women are little more than the playthings of powerful men, in a castle honeycombed with secret passages and clever traps, in a kingdom threatened from without and within by enemies able to appear and vanish out of thin air, Terisa must become more than the pale reflection of a person. For the way back to Earth is closed to her. And the enemies of Mordant will stop at nothing to see her dead.
About the Author
Stephen R. Donaldson is the bestselling author of the series The Gap Cycle, Mordant's Need, and the Chronicles of Thomas Covenant the Unbeliever, including Lord Foul's Bane and The Second Chronicles of Thomas Covenant; and other works, such as Daughter of Regals and Other Tales and a mystery series under the pseudonym Reed Stephens. He is the recipient of the first prize of the British Science Fiction Society and the John W. Campbell Memorial Award.
Advertisement