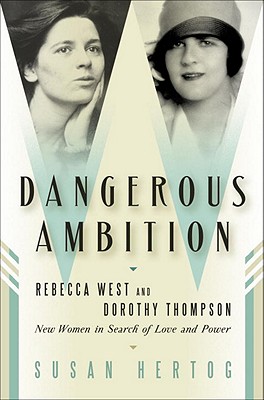 Dangerous Ambition
Rebecca West and Dorothy Thompson: New Women in Search of Love and Power
Hardcover

* Individual store prices may vary.
Description
Born in the 1890s on opposite sides of the Atlantic, friends for more than forty years, Dorothy Thompson and Rebecca West lived strikingly parallel lives that placed them at the center of the social and historical upheavals of the twentieth century. In Dangerous Ambition, Susan Hertog chronicles the separate but intertwined journeys of these two remarkable women writers, who achieved unprecedented fame and influence at tremendous personal cost.
 
American Dorothy Thompson was the first female head of a European news bureau, a columnist and commentator with a tremendous following whom Time magazine once ranked alongside Eleanor Roosevelt as the most influential woman in America. Rebecca West, an Englishwoman at home wherever genius was spoken, blazed a trail for herself as a journalist, literary critic, novelist, and historian. In a prefeminist era when speaking truth to power could get anyone—of either gender—ostracized, blacklisted, or worse, these two smart, self-made women were among the first to warn the world about the dangers posed by fascism, communism, and appeasement.
 
But there was a price to be paid, Hertog shows, for any woman aspiring to such greatness. As much as they sought voice and power in the public forum of opinion and ideas, and the independence of mind and money that came with them, Thompson and West craved the comforts of marriage and home. Torn between convention and the opportunities of the new postwar global world, they were drawn to men who were as ambitious and hungry for love as themselves: Thompson to the brilliant, volatile, and alcoholic Nobel Prize winner Sinclair Lewis; West to her longtime lover H. G. Wells, the lusty literary eminence whose sexual and emotional demands doomed any chance they may have had at love. Tragically, both arrangements produced troubled sons, whose anger and jealousy at their mothers' iconic fame eroded their sense of personal success.
 
Brimming with fresh insights obtained from previously sealed archives, this penetrating dual biography is a story of twinned lives caught up in the crosscurrents of world events and affairs of the heart—and of the unique trans-Atlantic friendship forged by two of the most creative and complex women of their time.
Praise For Dangerous Ambition: Rebecca West and Dorothy Thompson: New Women in Search of Love and Power…
Advance praise for Dangerous Ambition
 
"With grace and insight, Susan Hertog has written a masterly dual biography of two of the most formidable women of their age. This is a deeply researched, carefully wrought book, at once illuminating and entertaining, and it brings Rebecca West and Dorothy Thompson back to vivid life. As readers, we owe Hertog a great debt."—Jon Meacham, author of American Lion
 
"Rebecca West and Dorothy Thompson were brave, driven, ferociously intelligent, and magnificently right about the thing that mattered more than anything else in their era: the Nazi threat. In this well-researched, fluent, and groundbreaking work, Susan Hertog successfully connects their personal and professional lives, drawing profound moral conclusions from the friendship between these two ambitious, high-achieving, and admirable women."—Andrew Roberts, author of The Storm of War
 
"Susan Hertog brilliantly captures these two women as they lived, loved, and marshaled their power to fight for Western civilization in the hour of its greatest challenge. We know what Dorothy Thompson and Rebecca West did; Hertog shows us how they did it."—Amity Shlaes, author of The Forgotten Man
 
"They were literary icons—among the most admired writers of their day. At a time when most women were made to choose between the two, Britain's Rebecca West and America's Dorothy Thompson never managed to reconcile professional success with personal fulfillment. It's all unveiled here in Susan Hertog's deft and perceptive portrait of their accomplished but messy lives—riveting tales of triumph and tragedy. This is an illuminating, sobering read."—Ellen Chesler, author of Woman of Valor
                                                                              
"Meticulously researched, interpretively daring, and beautifully written, Dangerous Ambition interweaves the stories of two remarkably talented women writers (and their sons and lovers) as they stumble and dance their way through the terrible twentieth century, struggling with their conflicting roles as wives and mothers, witnesses and chroniclers of a world gone mad."—David Nasaw, author of Andrew Carnegie
 
"I very much enjoyed this worthy look at two big lives, these fascinating women of the twentieth century: both intellectuals, both serious writers, both passionately engaged in the great issues of their day, and both functioning, in different ways, as true leaders. This is a great story, and Susan Hertog tells it with verve and spirit."—Peggy Noonan, author of Patriotic Grace
Ballantine Books, 9780345459862, 512pp.
Publication Date: November 8, 2011
About the Author
Susan Hertog was born in New York City and graduated from Hunter College. After earning her M.F.A. from Columbia University, she became a freelance journalist and photographer. She is the author of one previous book, "Anne Morrow Lindbergh: Her Life." She lives in Manhattan with her family.
or
Not Currently Available for Direct Purchase