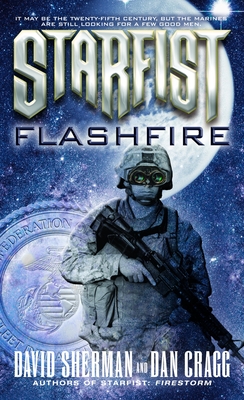 Flashfire (Mass Market Paperbound)
Del Rey Books, 9780345460554, 349pp.
Publication Date: March 27, 2007
* Individual store prices may vary.
or
Not Currently Available for Direct Purchase
Description
Packed with hard-core action written by battle-savvy combat veterans, the explosive Starfist series has become hugely popular across America. Now the saga of the courageous Marines continues in Flashfire,
as the 34th Fleet Initial Strike Team (FIST) ventures to the edge of Human Space to fight a number of enemies . . . some on their own side.
Tensions erupt between the Confederation and several frontier worlds when civilians are shot dead at an army base on the planet Ravenette. Enraged, the Ravenette government and nine neighboring planets form a coalition, and their first act of secession is to overrun Ravenette's Confederation garrison. With the armed forces of ten worlds seizing the brutal upper hand, the embattled troops need help-now-and they need it bad.
Enter the Marines of the 34th FIST. As the nearest ready-to-deploy unit, the team is sent to Ravenette with orders to hold the line until reinforcements arrive. The upcoming operation promises to be no picnic, for while sophisticates may ridicule the backward ways of the uncouth frontier folk, no one scoffs at their fighting ability.
Charlie Bass doesn't mince words for his men in Company L's third platoon. Two army divisions-perhaps thirty thousand soldiers-are being overwhelmed, and somebody expects a thousand Marines to save the day. As pompous Confederation generals wreak even more havoc than the enemy, there are those who call the mission suicide . . . but not the Marines.
Of course it sounds hopeless, but for Marines like Charlie Bass and the rest of the 34th FIST, accomplishing the impossible comes with the territory.
From the Hardcover edition.
About the Author
David Sherman is a former U.S. Marine and the author of eight novels about Marines in Vietnam, where he served as an infantryman and as a member of a Combined Action Platoon. He is also the author of the military fantasy series Demontech. Visit the author's website at www.novelier.com. Dan Cragg enlisted in the U.S. Army in 1958 and retired with the rank of sergeant major twenty-two years later. He is the author of Inside the VC and the NVA (with Michael Lee Lanning), Top Sergeant (with William G. Bainbridge), and a Vietnam War novel, The Soldier's Prize. He has recently retired as an analyst for the Department of Defense. From the Hardcover edition.
Praise For Flashfire…
Praise for Starfist

"Caution! Any book written by Dan Cragg and David Sherman is bound to be addictive. . . . The authors have a deep firsthand knowledge of warfare, an enthralling vision of the future, and the skill of veteran writers. Fans of military fiction, science fiction, and suspense will all get their money's worth. . . . [These novels are] fast, realistic, moral . . . and hard to put down. Sherman and Cragg are a great team!"
–Ralph Peters, New York Times bestselling author of Red Army

"A fast-paced tale of military heroics and personal courage."
–Library Journal, on Starfist

"This is state-of-the-art military science fiction."
–Publishers Weekly (starred review)
Advertisement