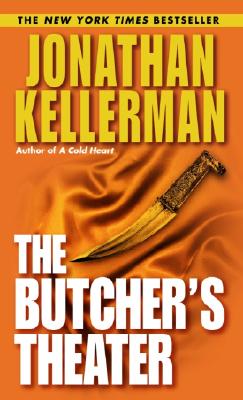 The Butcher's Theater (Mass Market Paperback)
Ballantine Books, 9780345460677, 640pp.
Publication Date: April 1, 2003
* Individual store prices may vary.
or
Not Currently Available for Direct Purchase
Description
They call the ancient hills of Jerusalem the  butcher's theater. Here, upon this bloodstained stage,  a faceless killer performs his violent specialty:  The first to die brutally is a fifteen-year-old  girl. She is drained of blood, then carefully bathed  and shrouded in white. Precisely one week later, a  second victim is found. From the sacred  Wailing Wall to the monasteries where dark secrets  are cloistered, from black-clad bedouin enclaves  to labyrinthine midnight alleys, veteran police  inspector Daniel Sharavi and his crack team plunge  deep into a city simmering with religious and  political passions to hunt for a murderer whos  insatiable taste for young women could destroy the  delicate balance on which Jerusalem's very survival  depends.

A brilliant novel by a master of  the genre, a vivid look at the tortured  complexities of a psychopath's mind, a rich evocation of a  city steeped in history -- this, and more, is  The Butcher's Theater.
About the Author
Jonathan Kellerman is one of the world's most popular authors. He has brought his expertise as a clinical psychologist to more than thirty bestselling crime novels, including the Alex Delaware series, "The Butcher's Theater, Billy Straight, The Conspiracy Club, Twisted, "and" True Detectives." With his wife, the novelist Faye Kellerman, he co-authored the bestsellers "Double Homicide "and" Capital Crimes." He is the author of numerous essays, short stories, scientific articles, two children's books, and three volumes of psychology, including "Savage Spawn: Reflections on Violent Children, "as well as the lavishly illustrated "With Strings Attached: The Art and Beauty of Vintage Guitars." He has won the Goldwyn, Edgar, and Anthony awards and has been nominated for a Shamus Award. Jonathan and Faye Kellerman live in California, New Mexico, and New York. Their four children include the novelists Jesse Kellerman and Aliza Kellerman.
Praise For The Butcher's Theater…
"Crisp ... suspenseful ... intense." -- The  New York Times Book Review

  "Spellbinding ... a fascinating tale." --  Time

"A finish as tense  and suspensful as that of The Day Of The  Jackal or Eye Of The  Needle. " -- USA Today  

"This one is going to scare the hell out of a lot  of people on its way to the bestseller lists"  -- Elmore Leonard
Advertisement