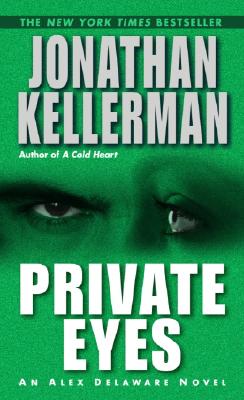 Private Eyes: An Alex Delaware Novel (Mass Market Paperback)
An Alex Delaware Novel
Ballantine Books, 9780345460707, 560pp.
Publication Date: April 1, 2003
* Individual store prices may vary.
or
Not Currently Available for Direct Purchase
Description
The voice belongs to a woman, but Dr. Alex  Delaware remembers a little girl. It is eleven  years since seven-years-old Melissa Dickinson dialed  a hospital help line for comfort--and found it in  therapy with Alex Delaware. Now the lovely young  heiress is desperately calling for psychologist's  help once more. Only this time it looks like  Melissa's deepest childhood nightmare is really  coming true ...  Twenty years ago, Gina Dickinson, Melissa's  mother, suffered a grisly assault that left the budding  actress irreparably scarred and emotionally  crippled. Now her acid-wielding assailant is out of  prison and back in L.A.--and Melissa is terrified  that the monster has returned to hurt Gina again.  But before Alex Delaware  can even begin to soothe his former patient's  fears, Gina, a recluse for twenty, disappears. And  now, unless Delaware turns crack detective to  uncover the truth, Gina Dickinson will be just one  more victim of a cold fury that has already spawned  madness--and murder.
About the Author
Jonathan Kellerman is one of the world's most popular authors. He has brought his expertise as a clinical psychologist to more than thirty bestselling crime novels, including the Alex Delaware series, "The Butcher's Theater, Billy Straight, The Conspiracy Club, Twisted, "and" True Detectives." With his wife, the novelist Faye Kellerman, he co-authored the bestsellers "Double Homicide "and" Capital Crimes." He is the author of numerous essays, short stories, scientific articles, two children's books, and three volumes of psychology, including "Savage Spawn: Reflections on Violent Children, "as well as the lavishly illustrated "With Strings Attached: The Art and Beauty of Vintage Guitars." He has won the Goldwyn, Edgar, and Anthony awards and has been nominated for a Shamus Award. Jonathan and Faye Kellerman live in California, New Mexico, and New York. Their four children include the novelists Jesse Kellerman and Aliza Kellerman.
Praise For Private Eyes: An Alex Delaware Novel…
"Vividly realistic ... explores the subject with  haunting emotional power."-- Playboy

"A page-turner from beginning to  end." --Los Angeles Times

"A gut-wrenching scenario... might well be  Kellerman's finest."  --Booklist
Advertisement