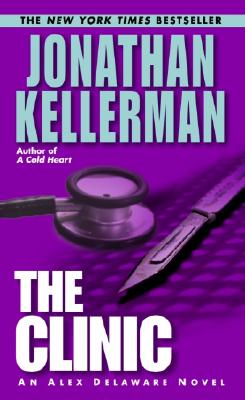 The Clinic (Mass Market Paperback)
Ballantine Books, 9780345460745, 496pp.
Publication Date: April 1, 2003
* Individual store prices may vary.
or
Not Currently Available for Direct Purchase
Description
Upon his return to Los Angeles from a harrowing adventure in the South Pacific, Alex is called upon by his friend Milo Sturgis to help solve the murder of a celebrity author.

For three months the police found no clues to the murder of Hope Devane, psychology professor and controversial author of a pop-psych bestseller about men. She was found stabbed to death on a quiet, shaded street in one of L.A.'s best neighborhoods. The evidence suggested not random slaughter, but cold, calculated stalking. And the list of potential suspects was as extensive as the audience for her book and her talk show appearances.

Newly assigned to the cold case, homicide detective Milo Sturgis calls on his friend, Dr. Alex Delaware to seek out insights into the victim's high-profile life. What Alex uncovers is a series of troubling inconsistencies about Hope, including her contradictory personas: the sensational, anti-male bestselling author versus the low-key scholarly university professor.

But it is when Alex delves into Hope's childhood that he begins to understand the forces that made her the formidable woman she was--and the ties that entangled her life until the horrifying act of betrayal that ended it.
About the Author
Jonathan Kellerman, America's foremost author of psychological thrillers, turned from a distinguished career in child psychology to writing full-time.

His works include ten previous Alex Delaware books--"When the Bough Breaks," "Blood Test," "Over the Edge," "Silent Partner,"

"Time Bomb," "Private Eyes," "Devil's Waltz," "Bad Love," "Self-Defense," and "The Web"--as well as the thriller "The

Butcher's Theater," two volumes of psychology, and two children's books. He and his wife, the novelist Faye Kellerman, have four children. "From the Hardcover edition."
Praise For The Clinic…
"Often, mystery writers can either plot like devils or create believable characters. Kellerman stands out because he can do both. Masterfully."
--USA Today

A Main Selection of the Book of the Month Club
Advertisement