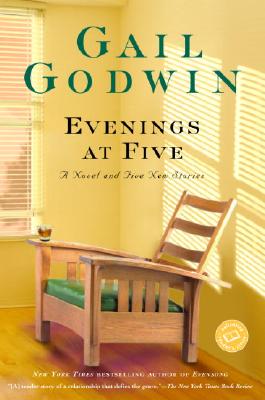 Evenings at Five
A Novel and Five New Stories
Paperback

* Individual store prices may vary.
Other Editions of This Title:
Digital Audiobook (3/31/2003)
Description
Every evening at five o'clock, Christina and Rudy began the ritual commonly known as Happy Hour, sharing drinks along with a love of language and music (she is an author, he a composer, after all), a delight in intense conversation, a fascination with popes, and nearly thirty years of life together. Now, seven months after Rudy's unexpected death, Christina reflects on their vibrant bond—with all its quirks, habits, and unguarded moments—as well as her passionate sorrow and her attempts to reposition herself and her new place in the very real world they shared.
Praise For Evenings at Five: A Novel and Five New Stories…
"With deep truth and immediacy, Gail Godwin illuminates an indivisible marriage—its experience, passion, thought, and wit; and its sundering into loss, longing, and remembrance. For such closeness, there should be a word beyond love."
—SHIRLEY HAZZARD

"With words alone, Gail Godwin has created an important piece of music about a love which death can only increase and deepen. Yes, and Frances Halsband's illustrations are a haunting countermelody."
—KURT VONNEGUT

"Evenings at Five reads like a novel, but it's a fictionalization of a real event. Gail Godwin uses all the weapons of art to deal with her own all-too-real grief, and the result is a rigorous exercise in restraint, control, irony, memory."
—The Washington Post Book World

"A LITTLE MASTERPIECE . . .
DEXTEROUS, STRONGLY FELT, MULTI-LEVEL WRITING."
—Asheville Citizen-Times

"[A] heartrending book . . . Brilliantly webbed scenes fill its pages . . . Godwin writes with enormous clarity and unvarnished prose. She writes, in other words, not to approach the truth but to forcefully ascertain it."
—Book magazine

"Possibly her truest book . . . There is a quiet dignity here that pulls you into the two people's lives. . . . Full of wicked humor and sage and subtle advice, laced with achingly familiar refrains of love and loss, Evenings at Five could well restore a bereaved man's or woman's sense of self."
—The Roanoke Times

"An exquisite portrait of a thirty-year relationship . . . There is a depth and intensity within that many large tomes never capture. . . . Just as Christina ultimately knows she has to move on, one assumes Godwin needed to write Evenings at Five to move on and work on another outstanding novel."
—South Florida Sun-Sentinel

"QUIRKY, WRY, AND SURPRISINGLY POWERFUL . . .
with a delight in words and the ways people use and abuse them that is typical of this urbane author."
—Publishers Weekly

"If asked to list my ten favorite American fiction writers, Gail Godwin would be among them. In this, her latest . . . she evokes in a short book the long married life of two artists. Evenings at Five is a strong tale of love-after-death."
—NED ROREM

"The New York Times bestselling author of Evensong has scored again. . . . The novel, which can be read in one sitting, is an excellent showcase of Godwin's talent. Those not already Godwin fans are apt to be converted."
—The Sunday Oklahoman

"Gail Godwin has written a book about the heaviest matters of loss, grief, and loneliness with a touch so light that I was as often deeply amused by it as I was deeply moved."
—FREDERICK BUECHNER

"The most balanced heart-rending book you ever read on the nature of loss, loneliness, and grief."
—Desert News

"INTIMATE AND TOUCHING."
—Kirkus Reviews

"A fierce evocation of what—at some time or another—everyone is bound to endure. . . . An amazing little volume that contains an explosive emotional wallop."
—ROBB FORMAN DEW

"An unflinching account of love, loss, grief, and the struggle toward consolation. It should touch every reader with its emotional power."
—ELIZABETH SPENCER

"No one does the nitty-gritty of soul-searching like Gail Godwin. . . . [She] is one of the few contemporary novelists willing to tackle the ticklish (to modern writers) topic of religion in real life. In a novel inspired by her own experience, she does it again, beautifully."
—BookPage

"Godwin accomplishes more in this smart, arch, and charming little illustrated novel than many of her peers do in far heftier volumes."
—Booklist

Ballantine Books, 9780345461032, 320pp.
Publication Date: March 30, 2004
About the Author
Gail Godwin is the three-time National Book Award nominee and bestselling author of eleven critically acclaimed novels, including A Mother and Two Daughters, Violet Clay, Father Melancholy's Daughter, Evensong, and The Good Husband. She has received a Guggenheim Fellowship, a National Endowment for the Arts grant for fiction and libretto writing, and the Award in Literature from the American Academy and Institute of Arts and Letters. She has written libretti for ten musical works with the composer Robert Starer. Currently she is writing her twelfth novel, Queen of the Underworld.

Visit her Web site at www.gailgodwin.com.