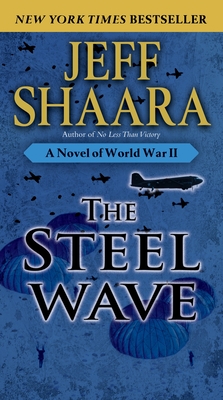 The Steel Wave: A Novel of World War II (Mass Market Paperbound)
A Novel of World War II
Ballantine Books, 9780345461391, 533pp.
Publication Date: October 27, 2009
Description
General Dwight Eisenhower commands a diverse army that must destroy Hitler's European fortress. On the coast of France, German commander Erwin Rommel prepares for the coming invasion, as the Fuhrer thwarts the strategies Rommel knows will succeed. Meanwhile, Sergeant Jesse Adams, a veteran of the 82nd Airborne, parachutes with his men behind German lines. And as the invasion force surges toward the beaches of Normandy, Private Tom Thorne of the 29th Infantry Division faces the horrifying prospects of fighting his way ashore on Omaha Beach, a stretch of coast more heavily defended than the Allied commanders anticipate. From G.I. to general, this story carries us through the war's most crucial juncture, the invasion that altered the flow of the war, and, ultimately, changed history.
About the Author
Jeff Shaarais theNew York Timesbestselling author ofA Chain of Thunder, A Blaze of Glory, The Final Storm, No Less Than Victory, The Steel Wave, The Rising Tide, To the Last Man, The Glorious Cause, Rise to Rebellion, andGone for Soldiers, as well asGods and GeneralsandThe Last Full Measure two novels that complete the Civil War trilogy that began with his father s Pulitzer Prize winning classic, The Killer Angels. Shaara was born into a family of Italian immigrants in New Brunswick, New Jersey. He grew up in Tallahassee, Florida, and graduated from Florida State University. He lives in Gettysburg."
Praise For The Steel Wave: A Novel of World War II…
"The indelible panorama [Jeff] Shaara paints . . . draws us into the horror and heroism of war."—Pittsburgh Post-Gazette

"Magnificent . . . Intense, compelling, and thoroughly researched, this is much more than just an excellent historical novel."—Library Journal

"Pounding with fierce action and human drama, and packed with accurately rendered history, The Steel Wave is an eye-opening reminder of the bitterly high price that combat soldiers have always been called upon to pay."—St. Petersburg Times

"In this great, often moving novel of conflict, [Jeff] Shaara channels the roiling experiences of men in the midst of a tumultuous enterprise whose outcome was by no means certain."—St. Louis Post-Dispatch

"Stirring . . . Shaara [is the] master of the war novel."—Chicago Tribune

Advertisement