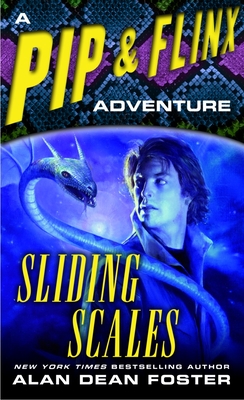 Sliding Scales: A Pip & Flinx Adventure (Mass Market Paperbound)
A Pip & Flinx Adventure
Del Rey Books, 9780345461582, 257pp.
Publication Date: September 27, 2005
* Individual store prices may vary.
or
Not Currently Available for Direct Purchase
Description
From bestselling author Alan Dean Foster comes a fantastic Pip and Flinx adventure starring a certain twenty-four-year-old redhead with emerald eyes and uncanny abilities and his devoted mini-dragon protector. Time and again, the daring pair have braved countless dangers to emerge victorious. But now Flinx attempts something that may be impossible for the heretofore undefeated hero. His mission: to take a vacation. Never have the cares of the universe lain so heavily on Flinx's shoulders, nor the forces arrayed against him seemed so invincible. Pursued by a newly revealed sect of doomsday fanatics, hunted by factions inside and outside the Commonwealth for transgressions real and imagined, expected to single-handedly avert a looming galactic crisis (or bear responsibility for the consequences), Flinx can be forgiven for feeling a slight touch of melancholy. There's only one solution for what ails Flinx, according to his ship's AI. But taking time off is tricky business. With an increasing number of enemies chasing him with ever-greater enthusiasm, Flinx must find a getaway shrouded in obscurity. Jast, a planet smack in the middle of nowhere, is the perfect locale. Yet even in a place where hardly anyone's ever seen a human, Flinx and trouble can't stay separated for long. Unfortunately, Flinx hasn't a clue that his vacation paradise is in reality a danger zone of the highest magnitude. And by the time he learns the truth, it may be too late. From the Hardcover edition.
About the Author
Alan Dean Foster has written in a variety of genres, including hard science fiction, fantasy, horror, detective, western, historical, and contemporary fiction. He is the author of the New York Times bestseller Star Wars: The Approaching Storm, as well as novelizations of several films including Star Wars, the first three Alien films, and Alien Nation. His novel Cyber Way won the Southwest Book Award for Fiction in 1990, the first science fiction work ever to do so. Foster and his wife, JoAnn Oxley, reside in Prescott, Arizona, in a house built of brick that was salvaged from a turn-of-the-century miners' brothel. He is presently at work on several new novels and media projects. From the Hardcover edition.
Praise For Sliding Scales: A Pip & Flinx Adventure…
Praise for Alan Dean Foster and Reunion, a Pip and Flinx adventure

"Bestseller Foster has created yet another entertaining adventure story in the far-flung reaches of a far-future outer space. . . . Using the traditional cliff-hangers and narrow escapes of classic SF adventure page-turners, and propelling Flinx from one crisis to another, from moral dilemma to deus-ex-machina, Foster enlists multiple formulas for a surefire . . . reading experience that should appeal to space-opera fans."
–Publishers Weekly

"Flinx's trek through the deadly desert and his encounters with the AAnn make for a good read."
–Locus
Advertisement