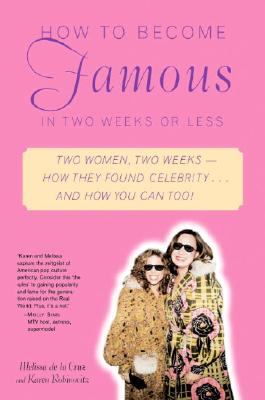 How to Become Famous in Two Weeks or Less
Two Women, Two Weeks--How They Found Celebrity... and How You Can Too!
Paperback

* Individual store prices may vary.
Description
2 WOMEN, 14 DAYS. THE GOAL? ACHIEVE BOLD FACE STATUS

SIGHTINGS: Spotted last night at a giant bash at Nobu: fashionista cuties Karen Robinovitz and Melissa De La Cruz. Karen was heard saying she's "still exhausted" from her recent Bungalow 8 birthday party that would have made P. Diddy jealous. Apparently, she was wearing two million dollars' worth of Harry Winston diamonds (including the 22-carat ring Whoopie Goldberg wore to the Oscars) and was constantly shadowed by a bodyguard named Lou who was straight out of a Scorsese film. Melissa, also fatigued from the fast track, just hosted an intimate dinner party at a swanky Upper East Side restaurant attended by trend-setting journos from New York magazine, The Observer, Allure, "Page Six" as well as the indefatigable Michael Musto–and as part of the gift bag giveaway, the whole crew is being flown to Miami to stay at a five-star resort favored by the likes of Will Smith.

Asked how they managed to go from barely-known freelance writers to A-list celebrities in just fourteen days, they coyly spilled the beans: Marie Claire called with the assignment, and they simply begged, clawed, cried, borrowed, cheated, lied, stole, and bribed their way to fame. Their how-to tips to stardom include "Pick an M&M color to hate, and stick to it." And they're writing a book, daaahlings, so whether you live in New York or Nebraska, you too can have the goods to claim your own fame and become legendary.
Praise For How to Become Famous in Two Weeks or Less: Two Women, Two Weeks--How They Found Celebrity... and How You Can Too!…
"Karen and Melissa capture the zeitgeist of American pop culture perfectly. Consider
this 'the rules' to gaining popularity and fame for the generation raised on the Real
World. Plus, it's a riot." –MOLLY SIMS, MTV host, actress, supermodel

"For anyone who has ever stood before a bathroom mirror and secretly thanked The
Academy, a hilarious guide to becoming 'It' in an age where the line between fame
and infamy is as fine as a Manolo Blahnik stiletto heel." –BONNIE FULLER, Editor-in-Chief, US Magazine

"Some are born famous, some achieve fame, and some have fame thrust upon them. For the rest of us, this book is essential reading." –TOBY YOUNG, Author of How to Lose Friends and Alienate People
Ballantine Books, 9780345462947, 320pp.
Publication Date: July 1, 2003
About the Author
Melissa de la Cruz is the #1 New York Times, USA Today, Wall Street Journal, Los Angeles Times, and Publishers Weekly internationally bestselling author of many critically acclaimed novels, including The Isle of the Lost: A Descendants Novel and Triple Moon: Summer on East End. Her Blue Bloods series has sold over three million copies, and her Witches of East End series became an hour-long television drama on the Lifetime network. To learn more, visit melissa-delacruz.com.

Karen Robinovitz is the chief creative officer for Digital Brand Architects. She spent a decade as a journalist for The New York Times, WWD, Harper's Bazaar, Elle, Marie Claire, amongst others, and co-authored Fête Accompli! with Lara Shriftman and Elizabeth Harrison, and The Fashionista Files and How to Become Famous in Two Weeks or Less with Melissa de la Cruz. She serves on the Board of Advisors of the Brooklyn Museum and lives in New York City with her husband.
or
Not Currently Available for Direct Purchase