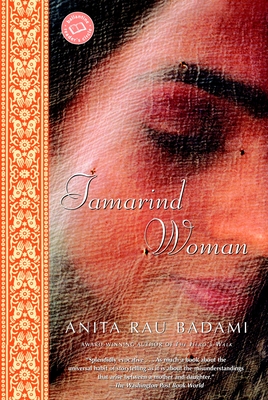 Tamarind Woman (Paperback)
Ballantine Books, 9780345464941, 304pp.
Publication Date: March 2, 2004
* Individual store prices may vary.
or
Not Currently Available for Direct Purchase
Description
Growing up in India, Kamini often found herself struggling to be noticed: noticed by her beloved, storytelling father, whose position as a railway officer took him away from home for long stretches of time; and noticed by her distant, distracted mother, Saroja, whose biting remarks earned her the nickname Tamarind Woman--and whose frequent disappearances while her husband was away led to whispers of dalliances and affairs. Now Kamini is grown, living in Canada in a sort of self-imposed exile from her eccentric family and all the turmoil they represent. After her father's death, her mother embarks upon a solo journey across India by train-- because what is the use of a lifetime railway pass if she doesn't use it? The trip brings the past rushing back for Saroja and Kamini--as both are forced to confront their dreams, disappointments, and long-guarded secrets.
About the Author
Anita Rau Badami's first novel was the bestseller Tamarind Woman. Her bestselling second novel, The Hero's Walk, won the Regional Commonwealth Writers' Prize and Italy's Premio Berto, was named a Washington Post Best Book, was longlisted for the International IMPAC Dublin Literary Award and the Orange Prize for Fiction, and was a finalist for the Kiriyama Prize. Her third novel, Can You Hear the Nightbird Call?, was released in 2006 to great acclaim, longlisted for the IMPAC Award, and named a finalist for the City of Vancouver Book Award. The recipient of the Marian Engel Award for a woman writer in mid-career, Badami is also a visual artist. She lives in Montreal.
Praise For Tamarind Woman…
"Splendidly evocative . . . As much a book about the universal habit of storytelling as it is about the misunderstandings that arise between a mother and daughter."
—The Washington Post Book World

"A TREMENDOUS ACHIEVEMENT—a skillful and compassionate family saga that is personal, intimate, tender, and revealing."
—Toronto Globe & Mail

"TAMARIND WOMAN ALLOWS THE READER TO TRAVEL INSIDE AN INDIA RARELY REVEALED. Ms. Badami's detailed descriptions of social customs and events are as enriching as they are beautiful."
—Richmond Times-Dispatch

"COMPELLING . . . Dishing out often laugh out-loud funny dialogue, [Badami] finds a wicked absurdity in the traditions of India, though the comedy masks larger, more persuasive social conflicts."
—Salon.com

"BITTERSWEET . . . With often stunning, poetic prose, [Badami] gives us an intimate character study of two women."
—Minneapolis Star Tribune

"Warm, witty, and engaging . . . [with] a slightly whimsical edge . . . There are some wonderfully evocative descriptions of childhood fears and superstitions. . . . The characterization and portrayal of complex family dynamics are also extremely well done."
—The Observer (England)

"One is beguiled by this evocative recreation of Kamini's childhood. . . . The texture of the book is like a finely woven piece of cloth, where every fragment of memory, however ordinary, is given a motif. . . . Badami possesses great facility with the language and she uses it with a malleable elegance that is a pleasure to read. Her recall of detail and the ability to blend it into characters is remarkable."
—Biblio (India)

"Exquisite . . . This is a literal swirl of a piece that should be gulped whole in one sitting. . . . Stunning, rich in detail, and utterly beguiling."
—The Edmonton Journal (Canada)

"A strong, emotional mother-daughter story . . . Family relationships and the appeal of a distant time and foreign culture combine to give this novel appeal for readers who like settings they deem exotic as well as those who just like a good story."
—Baton Rouge Advocate

"So hilarious that those around me asked why I was laughing . . . In Badami's story, love is woven throughout the story's tapestry like golden thread."
—Voice of Asia

"A family tableau . . . with vivid language and intricate descriptions."
—Elle

"VERY ACCOMPLISHED . . . QUIETLY SATISFYING . . .
[The details] are conveyed with enjoyable precision, and a picture of post-colonial India is vividly conjured up through a series of vignettes of places and people."
—The Times (London)

"A book so unselfconscious it begs to be read aloud . . . Badami allows her characters to float their stories on the air in a first-person narrative as jewel-bright and weightless as a silk sari shaken out of its folds. . . . Badami's gorgeous language is as rich and sharp and surprising as are her insights. Tamarind Woman is a treat."
—The Ottawa Citizen

"This lovely novel is layered with voices telling stories. . . . Badami writes very well and her narrative is rich with details. . . . She chronicles the intimate details of women, struggling in the constraints and judgments of a culture that dictates their duties and the shapes of their lives."
—Santa Barbara News Press

"Tamarind Woman presents a vivid history of women between India and America, told in the form of an entertaining novel."
—Winston-Salem Journal

"I enjoyed it enormously. . . . A captivating writer, with a sharp sense of character and a humor that infuses the story with vitality."
—HELEN DUNMORE

"[A] dense weave of fascinating details of everyday life in a culture unfamiliar to the American reader."
—Chapel Hill News

"ENGAGING . . . [ITS] PAGES GLOW
WITH LOVING NOSTALGIA FOR THE OLD COUNTRY."
—The Times Literary Supplement

"Badami weaves a tale of bittersweet nostalgia . . . imbuing her descriptions of Indian domestic life with achingly palpable details as she explores all the small ceremonies that make family life so simultaneously rich and infuriating. . . . A delectable book, filled with pungent sights and sounds and poignant memories. It proves, yet again, that each person in a family experiences that microcosm differently. Only by synthesizing these disparate views do we grasp the full flavor of events."
—Quill & Quire

"[A] novel that reveals so much talent . . . Badami writes graceful, evocative prose and plays complex variations on her themes. All her characters are vibrant and deftly drawn, and her narrators' opposing points of view create a poignant irony."
—Publishers Weekly

"Badami's brilliant and beautiful novel captures life in India—the musicality of the English spoken, the interactions with servants, the smells of rotting fruit in the market, the sweltering sun, and the constant moving about of a railway family."
—Booklist

"This is a beautiful first novel, written in lively Indian English. And, in the tradition of Indian writing, all-too-human flaws are described with endearing humor."
—The Georgia Straight

"Poignant . . . A light, delicate prose . . . It's a remarkable exposition of the truth that we never ever really know anyone, even with those closest to us."
—The Herald (Glasgow)

"[A] VIVID, ALMOST CINEMATIC TALE . . .
Sight, sound, and, especially, smell inhabit the narrative with the force of character. . . . By telling the story of a bitter woman so eloquently, Badami offers a measure of sweet redemption."
—Maclean's

"This novel is a beauty. . . . Simply written, unpretentious, Tamarind Woman weaves a web around you as all good stories do and clasps you in its embrace. Anita Rau Badami has written a fine book with sensitivity. . . . An absolute delight to read, Tamarind Woman puts to rest the rhyme that girls were made of sugar and spice and all things nice. How delightful and refreshing that Saraja is made of tamarind and chilies and fierce black pepper."
—The Hindu

"In a masterly fashion, Anita Rau Badami spins her web of memory. . . . It is a fascinating book that shows how an expatriate can reconstruct her imaginary homelands with magnificent detail. . . . Tamarind Woman will help Anita Rau Badami establish herself as a post-colonial writer who is able to assert and foreground her Indian experience in a powerful way."
—The Pioneer (India)

"Introspective, with rich descriptions of Indian middle class life, Tamarind Woman is a compelling novel that will win even more admirers for this young, talented writer."
—Register-Pajaronian (Watsonvile, CA)

"What a treat . . . An escape, an entertainment—that mere but elusive thing that most of us, after all, are seeking in good fiction."
—National Post

"[A] thoughtful work . . . This portrait of a mother and daughter transcends geographical limitations."
—Library Journal

"A POWERFUL STORY . . . A RICHLY TEXTURED WORK."
—Books in Canada

"The customs of two very different worlds are revealed in minute detail throughout Anita Rau Badami's arresting novel. . . . While this tantalizing book is filled with glimpses of life in a country whose sights and sounds are exotic to an outsider, its central theme is the mother-daughter relationship that transcends geographical boundaries. Badami writes elegant, complex prose. . . . Her provocative thoughts fill the pages of Tamarind Woman, leaving the reader entranced. . . . This thoughtful novel leaves one with much to ponder, particularly the fragile family ties that refuse to be severed."
—The Sanford Herald (NC)

"A forceful narrative . . . Colorfully retold myths [are] spun from the mouths of various personalities . . . This layered novel's suggestive world seeps smoothly into your consciousness."
—Winnipeg Free Press

"A warm, engaging portrait of exile, geographical and spiritual . . . Memories run like silk being spun, starting out simple and crafted differently by each individual in this subtle story of family dynamics."
—The Scotsman

"An intimate and tender novel evocative of India, its myths, superstitions, and religion. It also explores the mutability of memory, unraveling the deep ties of love and resentment that bind mothers and daughters everywhere."
—Paisley Daily Express (England)

"Beautifully crafted . . . Although rooted in the caste system of India, this accomplished work transcends cultural and linguistic barriers."
—Yorkshire Post (England)

Advertisement