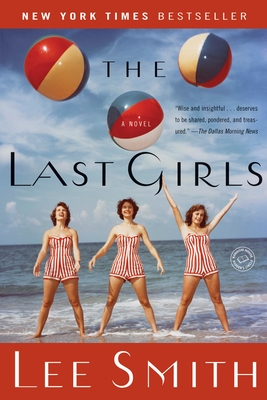 The Last Girls
A Novel
Paperback

* Individual store prices may vary.
Description
On a beautiful June day in 1965, a dozen girls-classmates at a picturesque Blue Ridge women's college-launched their homemade raft (inspired by Huck Finn's) on a trip down the Mississippi. It's Girls A-Go-Go Down the Mississippi read the headline in the Paducah, Kentucky, paper.Thirty-five years later, four of those "girls" reunite to cruise the river again. This time it's on the luxury steamboat, The Belle of Natchez, and there's no publicity. This time, when they reach New Orleans, they'll give the river the ashes of a fifth rafter-beautiful Margaret ("Baby") Ballou.
Revered for her powerful female characters, here Lee Smith tells a brilliantly authoritative story of how college pals who grew up in an era when they were still called "girls" have negotiated life as "women." Harriet Holding is a hesitant teacher who has never married (she can't explain why, even to herself). Courtney Gray struggles to step away from her Southern Living-style life. Catherine Wilson, a sculptor, is suffocating in her happy third marriage. Anna Todd is a world-famous romance novelist escaping her own tragedies through her fiction. And finally there is Baby, the girl they come to bury-along with their memories of her rebellions and betrayals.
THE LAST GIRLS is wonderful reading. It's also wonderfully revealing of women's lives-of the idea of romance, of the relevance of past to present, of memory and desire.
Praise For The Last Girls: A Novel…
"Wise and insightful . . . The Last Girls deserves to be shared, pondered, and treasured."
–The Dallas Morning News
"[A] GENIAL, THOUGHTFUL, FUNNY NOVEL, WRITTEN WITH THE WIT AND ASSURANCE OF A BORN STORYTELLER."
–The Hartford Courant

"RICH AND DELICIOUS . . . THE STORY OF FOUR WOMEN . . .Years ago, they were girls, not women–the last generation of American females to be called 'girls'–who traveled down the Mississippi River . . . on a makeshift raft while they were on summer vacation . . . There were twelve of them on that trip; now there are these four, brought together by tragedy. One of their classmates . . . has died in an automobile wreck (was it really an accident?), and her husband has asked the old friends to re-create the river journey and scatter her ashes at the mouth of the Mississippi. . . . It's a reunion of classmates with all of the in-between revealed in intimate detail, as only a skilled and classy storyteller can do it."
–The Boston Globe

"AN HONEST PORTRAIT OF INTELLIGENT, WELL-ROUNDED SOUTHERNERS is always refreshing, and The Last Girls delivers. The book may be influenced by Twain, but Smith proves she has a voice all her own."
–USA Today
"BREEZILY WRITTEN AND DISPLAYING SMITH'S TRADEMARK PITCH-PERFECT EAR FOR DIALOGUE, funny but with the dark touches of all good comedy, the novel charts the course by which the 'girls' . . . seek love and self-fulfillment during the three decades approaching the end of the century. Call it Huckleberry Fin de Siècle."
–Time Out New York

"SMITH'S COMIC GENIUS SPARKLES . . . Under Smith's deft hand, these woman bloom exceptionally authentic."
–Winston-Salem Journal

BB/Ballantine Books
Visit the Ballantine Reader's Circle Web site at
www.ballantinebooks.com/BRC/


A 2002 BOOKLIST EDITOR'S CHOICE PICK

"[SMITH IS] NOTHING LESS THAN MASTERLY."
–The New York Times Book Review

"Rich, personal, charming, and compassionate . . . Using the premise that both a reunion and a riverboat provide good lookouts on the past, she details the passing terrain as she details each woman's emotional history, from child to adult, from dates to love affairs, from silly shenanigans to tragic accidents. And what details! The book is filled with memorable scenes. . . . Smith adds a purely feminine, deeply southern twist to the Mark Twain tradition of humor and precision applied generously to the subject of human weakness."
–Richmond Times-Dispatch

"Lee Smith's genius is in her seamless weaving of the two stories, past and present, so that we realize what the stakes are for these women, and how they have arrived at the reunion as footsore pilgrims–a bit battered and bruised, but sailing on nevertheless. . . . Smith has that talent that all storytellers envy: the ability to dive deeply into the lives of her characters, to bring them to life in their rich fullness, warts and all. Each of these women could energize an entire book. Each brings something unique and captivating to a superb tale that will stay with you long after the reading is done. Together they compel each of us to ask what has brought us to the near shore, and how we set sail from here."
–The Boston Globe
Ballantine Books, 9780345464958, 432pp.
Publication Date: September 30, 2003
About the Author
Lee Smith was born in Grundy, VA. She is author of many novels, including the New York Times bestseller The Last Girls, and most recently Guests On Earth. She is a recipient of the Academy Award in Literature from the American Academy of Arts and Letters, the North Carolina Award for Literature, and a Southern Book Critics Circle Award.