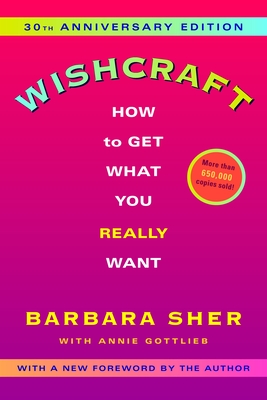 Wishcraft
How to Get What You Really Want
Paperback

* Individual store prices may vary.
Other Editions of This Title:
Paperback (12/1/2003)
Description
Cindy Fox was a waitress. Now she's a pilot. Peter Johnson was a truck driver. Now he's a dairy farmer. Tina Forbes was a struggling artist. Now she's a successful one. Alan Rizzo was an editor. Now he's a bookstore owner.

What they have in common—and what you can share—are Barbara Sher's effective strategies for making real changes in your life. This human, practical program puts your vague yearnings and dreams to work for you—with concrete results. You'll learn how to

• Discover your strengths and skills
• Turn your fears and negative feelings into positive tools
• Diagram the path to your goal—and map out target dates for meeting it
• Chart your progress—day by day
• Create a support network of contacts and sources
• Use a buddy system to keep you on track
Praise For Wishcraft: How to Get What You Really Want…
"One of the most popular books among those who want their lives to count for something. Barbara Sher is to be commended for making hope practical."—Richard Nelson Bolles, author of What Color Is Your Parachute?

"A sprightly, sensible book brimming with advice, suggestions, and examples."—Pittsburgh Press

"Comprehensive and inviting . . . eminently practical."—San Francisco Examiner & Chronicle

"A most useful and enlightening book."—Houston Post

"The most irreverent and refreshing self-help manual now on the market . . . Feisty, funny, and down-to-earth, this book is bound to benefit all those
who sense they may have temporarily lost track of their true goals."—New Age Magazine

"Wise, compassionate, and pragmatic. Written by an expert for people of all ages who seriously want that something in life."—Theodore Isaac Rubin, M.D.



Ballantine Books, 9780345465184, 272pp.
Publication Date: December 30, 2003
About the Author
Barbara Sher is a therapist and career counselor who conducts workshops all over the United States and throughout the world. She has been featured on Oprah and Donahue, as well as in The Wall Street Journal, The New York Times, and USA Today. Her bestsellers include Wishcraft, Teamworks!, and I Could Do Anything If I Only Knew What It Was. Heard on the radio in cities all over America every day, Sher lives in New York City.

Annie Gottlieb is a freelance writer whose work has appeared in Mirabella, McCall's, and The New York Times. She is the author of Do You Believe in Magic?: Bringing the Sixties Back Home and the coauthor of Wishcraft: How to Get What You Really Want.