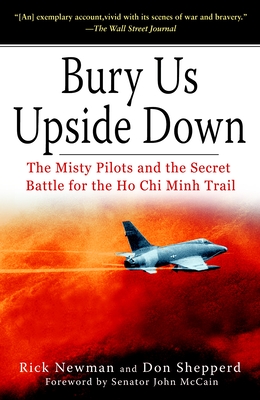 Bury Us Upside Down (Paperback)
The Misty Pilots and the Secret Battle for the Ho Chi Minh Trail
Presidio Press, 9780345465382, 528pp.
Publication Date: February 27, 2007
* Individual store prices may vary.
Description
They had the most dangerous job n the Air Force. Now Bury Us Upside Down reveals the never-before-told story of the Vietnam War's top-secret jet-fighter outfit–an all-volunteer unit composed of truly extraordinary men who flew missions from which heroes are made.

In today's wars, computers, targeting pods, lasers, and precision-guided bombs help FAC (forward air controller) pilots identify and destroy targets from safe distances. But in the search for enemy traffic on the elusive Ho Chi Minh Trail, always risking enemy fire, capture, and death, pilots had to drop low enough to glimpse the telltale signs of movement such as suspicious dust on treetops or disappearing tire marks on a dirt road (indicating a hidden truck park). Written by an accomplished journalist and veteran, Bury Us Upside Down is the stunning story of these brave Americans, the men who flew in the covert Operation Commando Sabre–or "Misty"–the most innovative air operation of the war.

In missions that lasted for hours, the pilots of Misty flew zigzag patterns searching for enemy troops, vehicles, and weapons, without benefit of night-vision goggles, infrared devices, or other now common sensors. What they gained in exhilarating autonomy also cost them: of 157 pilots, 34 were shot down, 3 captured, and 7 killed. Here is a firsthand account of courage and technical mastery under fire. Here, too, is a tale of forbearance and loss, including the experience of the family of a missing Misty flier–Howard K. Williams–as they learn, after twenty-three years, that his remains have been found.

Now that bombs are smart and remote sensors are even smarter, the missions that the Mistys flew would now be considered no less than suicidal. Bury Us Upside Down reminds us that for some, such dangers simply came with the territory.
About the Author
Rick Newman is a writer and editor at U.S. News & World Report who covered the Pentagon for seven years, including U.S. missions in Bosnia, Kosovo, and the Persian Gulf. He has written hundreds of stories on the military, including dozens of exclusives, and more than twenty cover stories.

Don Shepperd (Misty 34) reported for duty at Phu Cat Air Base on December 19, 1967, and flew fifty-eight missions as a Misty during his four-month tour. With a total of 247 combat missions in Vietnam, he retired from the Air Force in 1998 as a two-star general and head of the Air National Guard. In 2001 he joined CNN as one of their principal military analysts.
Praise For Bury Us Upside Down: The Misty Pilots and the Secret Battle for the Ho Chi Minh Trail…
Praise for Bury Us Upside Down

"The stories . . . are vivid and timeless: : the North Vietnamese gunner who was so inept that the Mistys had a standing order not to shoot him; the pilot who dissuaded his new commander from launching night Misty missions by taking him on a night flight and surreptitiously switching on the outboard lights over heavy ground fire; the Misty custom of igniting their afterburners over POW sites, sending out a familiar booming noise that told the downed airmen they were not forgotten. [A] gripping narrative. . . . It's a fabulous read."
–The Washington Post

"This is a true story about real warriors–both those who came home and those who did not–and the legacy they left. The story of the Misty pilots fills a gap in our understanding of the Vietnam War, and reminds armchair tacticians what the true cost of war is, and who pays the price."
–Joseph Galloway, co-author of We Were Soldiers Once . . . and Young

"Rip that Nintendo out of your kid's hands and hand him Bury Us Upside Down! This outstanding book will give him insight into what real aerial combat, flown by real heroes, is like. Undoubtedly the best book of its type, Bury Us Upside Down is the truth writ bold and simple–the story of the men who fought the war flying the toughest missions imaginable, and their families. It is a book of heroes, and just reading it gives you insight into what a true hero feels."
–Walter J. Boyne, former director, National Air and Space Museum, Smithsonian Institution

"With its great in-the-cockpit stories of the first jet-fighter combat forward air controllers, Bury Us Upside Down is an incredible account of how it all started. The reader will feel the G forces, the strain of avoiding ground fire, the satisfaction of a completed rescue, the black humor of combat-hardened pilots, and the effects on the families of those who didn't return. But most of all the reader will feel proud America can produce such men."
–Mark Berent, author of the Rolling Thunder series

"[A] thoroughly readable, absorbing history . . . a distinguished addition to Vietnam War aviation literature."
–Publishers Weekly