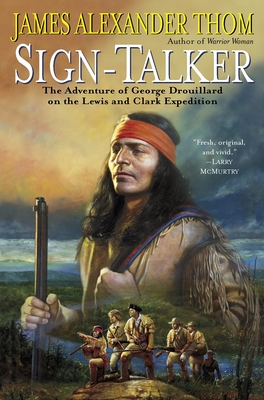 Sign-Talker: The Adventure of George Drouillard on the Lewis and Clark Expedition (Paperback)
The Adventure of George Drouillard on the Lewis and Clark Expedition
Ballantine Books, 9780345465566, 492pp.
Publication Date: November 4, 2003
* Individual store prices may vary.
or
Not Currently Available for Direct Purchase
Description
In his extraordinary body of work, James Alexander Thom does more than bring the past to life; he makes us experience history as if we were witnessing it for the first time. Thom's new novel is an enthralling adventure with fascinating real-life characters--and a heart-grabbing narrative that casts a vivid light on a momentous chapter in American history. Flint and Steel begins just after the Louisiana Purchase. Thomas Jefferson has sent Meriwether Lewis and William Clark to penetrate the newly acquired territory, journey up the Missouri River, cross the Rocky Mountains, and reach the glimmering sea in the far West. To survive, the two captains need an extraordinary hunter who will be able to provide the expedition with fresh game, and a sign-talker to communicate with the native tribes. They choose George Drouillard. It is Drouillard, an actual historical figure, who becomes our eyes and ears on this unforgettable odyssey. Drouillard, a metis raised among the Shawnee, cannot fathom what drives the two men. Nor can he help but admire their ingenuity and courage as they tackle the journey into the unknown. Along the way, he watches as they shrewdly shape and discipline their force, adding French-Canadian rivermen--to guide the expedition up the Missouri--and an Indian woman, Sacagawea, who will play a crucial role in negotiations with the Western tribes. After plunging into an unforgiving land and near madness, the triumphant achievement of two captains will be eclipsed by an overwhelming tragedy that will touch not only Meriwether Lewis and the frontier tribes but George Drouillard himself. A magnificent tale told with intelligence and insight, Flint and Steel is full of song and suffering, humor and pathos. James Alexander Thom has created the rarest reading experience: one that entertains us even as it shows us a new vision of our nation, our past, and ourselves. From the Hardcover edition.
About the Author
James Alexander Thom was formerly a U.S. Marine, a newspaper and magazine editor, and a member of the faculty at the Indiana University Journalism School. He is the author of Follow the River, Long Knife, From Sea to Shining Sea, Panther in the Sky (for which he won the prestigious Western Writers of America Spur Award for best historical novel), The Children of First Man, and The Red Heart. He lives in the Indiana hill country near Bloomington with his wife, Dark Rain of the Shawnee Nation, United Remnant Band. Dark Rain is a director of the National Lewis and Clark Bicentennial Planning Council. From the Paperback edition.
Praise For Sign-Talker: The Adventure of George Drouillard on the Lewis and Clark Expedition…
"James Alexander Thom . . . make[s] the story of North America come alive. He puts flesh and blood on forgotten names, and he breathes life into the stale past. He is probably the most important author of American historic novels writing today because he helps to interpret the distant past for the mind and interest of the modern reader."
--JACK WEATHERFORD
   Author of Indian Givers
Advertisement