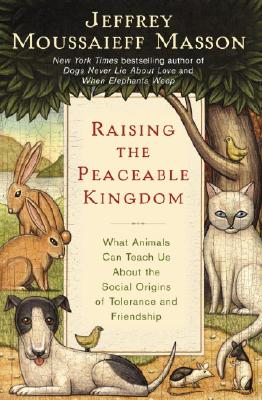 Raising the Peaceable Kingdom
What Animals Can Teach Us About the Social Origins of Tolerance and Friendship
Hardcover

* Individual store prices may vary.
Other Editions of This Title:
Compact Disc (10/1/2005)
Description
"I did not want to fail, because the stakes were too high. After all, I was after nothing less than the secret of human harmony." The challenge that bestselling author Jeffrey Moussaieff Masson set for himself was formidable: to create a true interspecies peaceable kingdom within his own household. He hoped to learn if several different species–some, natural enemies–raised together from an early age could live peacefully side by side. So he took into his home seven young animals–a kitten, a rabbit, two rats, two chickens, and a puppy–and set about observing the whole process of socialization (or non-socialization) from the very beginning.

The initial results were mixed. Tamaiti, the kitten, made herself instantly comfortable, but Hohepa, the Flemish giant rabbit, remained inscrutably reserved. Kia and Ora, the rats, slept all day and became active at night. Moa and Moana, the Polish frizzle chickens, bonded with each other but to no one else. Mika, the stray pup, barked much too much. But as the hours and days passed in this never-before-attempted environment, the animals began to change in startling ways, as Masson wondered which animals would bond, and which would recoil from one another? Can animals, including humans, truly change when direct experience tells them it's safe to do so? Would the experiment end in triumph, or in tragedy?

Raising the Peaceable Kingdom poses universal questions we've all had about relationships, social strife, and peaceful coexistence. In its intimations of the potential for planetary harmony, this elegantly written book is a work of major significance. As a unique account of life in an interspecies community, it offers unmitigated enchantment, joy, and delight.
Praise For Raising the Peaceable Kingdom: What Animals Can Teach Us About the Social Origins of Tolerance and Friendship…
Praise for Raising the Peaceable Kingdom

"A continual pleasure, both beguiling and profound–an unusual combination. Deserves to be read by all humans."
–Daniel Ellsberg

"Masson is one of the bravest people writing about animals, and one of the most thoughtful. His premise is fascinating and original, and he goes to the heart of what interests so many of us who love animals: what, ultimately, can they teach us? How much can they–and we–change?"
–Jon Katz, author of The Dogs of Bedlam Farm and Katz on Dogs

"A wise and charming parable of human kindness, goodwill, and fellowship with other creatures. Only Jeffrey Masson would actually carry out the project described here, and only he could tell the story with such humor, insight, and beautiful writing."
–Matthew Scully, former presidential speechwriter and author of Dominion: The Power of Man, the Suffering of Animals, and the Call to Mercy


"What a delightful book, and utterly fascinating! Raising the Peaceable Kingdom is one of those rare books that entertain you so fully that you don't even realize how deeply you are being educated. At once captivating and profound."
–John Robbins, author of The Food Revolution and Diet for a New America
Ballantine Books, 9780345466136, 192pp.
Publication Date: September 27, 2005
or
Not Currently Available for Direct Purchase