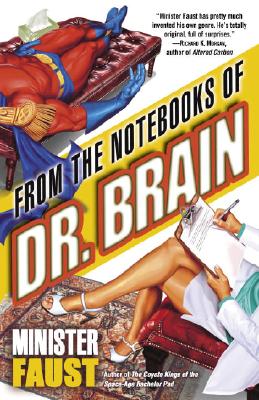 From the Notebooks of Dr. Brain
Paperback

* Individual store prices may vary.
Description
"An outlandish, outrageous tour de force by the most innovative prose stylist in the field."
–Robert J. Sawyer, author of Hominids

They're Earth's mightiest superteam–and dysfunctional as hell.

OMNIPOTENT MAN–a body with the density of steel, and a brain to match

THE FLYING SQUIRREL–aging playboy industrialist by day, avenging krypto-fascist by night

IRON LASS–mythology's greatest warrior–but the world might be safer if she had a husband

X-MAN–formerly of the League of Angry Blackmen . . . but not formerly enough

THE BROTHERFLY–radioactively fly

POWER GRRRL–perpetually deciding between fighting crime or promoting her latest album, clothing line, or sex scandal

Having finally defeated all archenemies, the members of the Fantastic Order of Justice are reduced to engaging in toxic office politics that could very well lead to a superpowered civil war. Only one woman can save them from themselves: Dr. Eva Brain-Silverman, aka Dr. Brain, the world's leading therapist for the extraordinarily abled.

"Faust has pretty much invented his own genre. He's totally original, full of surprises."
–Richard K. Morgan, author of Altered Carbon

"Samuel Delany, Harlan Ellison, and Ishmael Reed all rolled into one. Faust's writing is biting, insightful, and hugely entertaining."
–Ernest Dickerson, director
Del Rey, 9780345466372, 416pp.
Publication Date: January 30, 2007
or
Not Currently Available for Direct Purchase