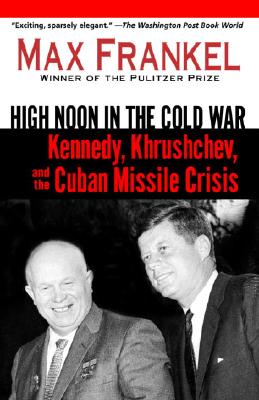 High Noon in the Cold War: Kennedy, Krushchev, and the Cuban Missile Crisis (Paperback)
Kennedy, Krushchev, and the Cuban Missile Crisis
Presidio Press, 9780345466716, 206pp.
Publication Date: September 27, 2005
Description
One of the giants of American journalism now re-creates an unforgettable time in which the whole world feared extinction.
High Noon in the Cold War
captures the Cuban Missile Crisis in a new light, from inside the hearts and minds of the famous men who provoked and, in the nick of time, resolved the confrontation.
Using his personal memories of covering the conflict, and gathering evidence from recent records and new scholarship and testimony, Max Frankel corrects widely held misconceptions about the game of nuclear chicken played by John Kennedy and Nikita Khrushchev in October 1962, when Soviet missiles were secretly planted in Cuba and aimed at the United States.
High Noon in the Cold War
portrays an embattled young American presidentnot jaunty and callow as widely believed, but increasingly calm and statesmanlikeand a Russian ruler who was not only a wily old peasant but an insecure belligerent desperate to achieve credibility. Here, too, are forgotten heroes like John McCone, the conservative Republican CIA head whose intuition made him a crucial figure in White House debates.
In detailing the disastrous miscalculations of the two superpowers (the U.S. thought the Soviets would never deploy missiles to Cuba; the Soviets thought the U.S. would have to acquiesce) and how Kennedy and Khrushchev beat back hotheads in their own councils, this fascinating book re-creates the
whole
story of the scariest encounter of the Cold War, as told by a master reporter.
From the Hardcover edition.
About the Author
MAX FRANKEL is one of America s preeminent journalists. He worked for The New York Times for fifty years, rising from college correspondent to reporter, Washington bureau chief, editorial page editor, and ultimately executive editor 1986 1994. He won the Pulitzer Prize for his coverage of President Nixon s trip to China in 1972 and is the author of a nationally bestselling memoir, The Times of My Life and My Life with the Times. He lives in New York City. From the Hardcover edition."
Advertisement