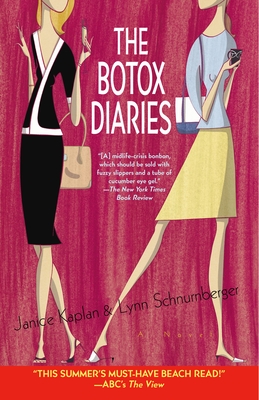 The Botox Diaries (Paperback)
A Novel
Ballantine Books, 9780345468581, 336pp.
Publication Date: May 10, 2005
* Individual store prices may vary.
Description
In a world where plastic surgery is as popular as a pair of sexy Manolo Blahniks, suburban single mom Jessica Taylor is trying to make it past forty with nothing more than moisturizer and a swipe of mascara. Her glamorous best friend, TV producer Lucy Baldor, has a different idea of aging gracefully. "My body is a temple," Lucy explains. "I just don't want it to crumble like St. John the Divine."
Jess and Lucy's friendship has weathered the trials of marriage, the births of children, and the transition from itty-bitty bikinis to "Kindest Cut" one-piece suits. Now the women are discovering that midlife crises aren't just for men—they're equal-opportunity dilemmas.
To Jess's dismay, Lucy announces that she's taken a lover. A very famous lover. Her husband, Dan, is bound to find out (especially after a picture of the amorous duo appears on Page Six of the New York Post), but Lucy's too wrapped up in the joys of expensive lingerie and romantic retreats to care. Jess finds herself in the midst of her own romantic predicament when, after ten years of silence, her sexy French ex-husband, Jacques, ends up back in her life—and in her bed.

Whether navigating bake sales, bicoastal affairs, or bagels-and-Botox parties, these wise and witty women know that their friendship will remain the one true thing they can count on. Well, that and a good push-up bra, of course. And their bond withstands everything—from an orgy in Willie Nelson's trailer to a reality TV-show bachelor named Boulder.
Funny, brazen, and often poignant, this irresistible novel offers an unexpected and entertaining look at two women's midlife adventures. From Thai massage to tantric sex, who would have thought forty could be so much fun?


From the Hardcover edition.
About the Author
Between them, authors Janice Kaplan and Lynn Schnurnberger have lived in three countries, married four times, raised three children, and published seven books. They've produced hundreds of hours of network television shows and written articles for just about every women's magazine in America. Both have appeared regularly on television shows including Oprah, Good Morning America, and Today. Each is happily married and living in New York. This is their first collaboration.


From the Hardcover edition.
Praise For The Botox Diaries: A Novel…
"Warning! Reading this book could cause laugh lines! May also lead to sleep deprivation—since once you start, you won't be able to stop. I loved it."
—LAUREN WEISBERGER, author of The Devil Wears Prada

"Janice Kaplan and Lynn Schnurnberger may have written the Ur Post-Chick-lit novel. The Botox Diaries is a romp that lauds the 'tender' virtues we all embrace. Try not to deepen your laugh lines as you follow the adventures of these two lovable grownup girls."
—JACQUELYN MITCHARD, author of The Deep End of the Ocean

"A sexy, sophisticated romp guaranteed to keep you entertained. Highest ratings to the hilarious TV tales, told with an insider's wry and loving eye. A great read!"
—DICK CLARK

"What midlife crisis? The Botox Diaries is the perfect antidote to scalpel scandals and yoga yuppies . . . and far, far more satisfying than a carb-free éclair will ever be."
—KAREN MOLINE, author of Belladonna

"Talk about a lift! The Botox Diaries is a potent injection of humor and insight."
—JEANNE WOLF, Jeanne Wolf's Hollywood


From the Hardcover edition.
or
Not Currently Available for Direct Purchase