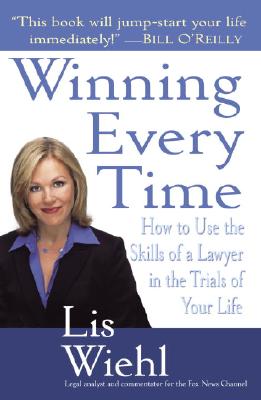 Winning Every Time
How to Use the Skills of a Lawyer in the Trials of Your Life
Paperback

* Individual store prices may vary.
Other Editions of This Title:
Digital Audiobook (4/26/2004)
Digital Audiobook (1/7/2004)
Description
Whether you're hoping to obtain a raise from your boss, convince an insurance claim representative to reimburse your medical treatment, or persuade your spouse into spending less time watching TV and more time with you, Winning Every Time will be your guide for truly practical and helpful advice about how to make that case effectively—and win it hands down. Too often we argue conclusions without the benefit of a premise, react from anger instead of presenting hard facts, feel defensive when sensing resistance, or fail to make calm, irrefutable counterarguments. In this dynamic, groundbreaking book, Lis Wiehl shows how to apply the skills, smarts, and strategies of a lawyer and stay in command whenever life makes you feel as though you are on trial.

Writing in an engaging, accessible style, Wiehl teaches you how to become your own best advocate, so you can plead your case with precision—and win the hearts (and change the minds) of even the most recalcitrant "juror." You'll learn the eight easy-to-follow rules of persuasion to winning a case:

Know What You Want: The Theory of the Case—outline your premise clearly and establish your objective accordingly
Choose and Cultivate Your Audience: Voir Dire— bring your case to the person who "calls the shots" and know the perfect time and place to do so
Marshal Your Evidence: Discovery—assemble all the facts that support your cause, even information that may challenge your objective
Advocate with Confidence: Making the Case—present your opening argument and offer your evidence calmly and methodically
Counter the Claims: Cross-examination—challenge your opponent's allegations consistently, but gently, through a series of "yes or no" questions
Stay True to Your Case: Avoid the Seven Deadly Spins—keep your argument authentic by avoiding false inferences, hearsay, and subjectivity
Advocate with Heart: Let Me Tell You a Story—make your case personal with a special story that will convey your message in a memorable way
Sum It Up: The Closing Argument—deliver a fervent and succinct summation of your theory and evidence . . . and close the deal

Along with practical advice on how to state your case effectively and come out on top, this remarkable book features incisive stories from real people who have transformed their lives through advocacy. With amazing, result-oriented strategies, Winning Every Times will help you stay in command whenever life makes you feel as though you are on trial.
Praise For Winning Every Time: How to Use the Skills of a Lawyer in the Trials of Your Life…
"This book will jump start your life immediately!"
—BILL O'REILLY

"This practical and very entertaining book isn't really about law at all, but about how to even the playing field—about how everyone else can use legal thinking to have that edge in life."
—DAN ABRAMS, chief legal correspondent for NBC

"With humor and insight, Wiehl effectively translates the best talents of a trial lawyer into tools anyone can use. Win—at work, at home, and, ultimately, in life itself."
—CATHERINE CRIER, Court TV anchor, former judge
and author of The Case Against Lawyers

"Finally—there is something Conservatives and Liberals can agree on! Lis Wiehl's book will make you a winner!"
—SEAN HANNITY, Fox News Channel anchor, Hannity & Colmes

"Don't give this book to your friends, colleagues, [or] loved ones. If you do, then they'll know the special techniques necessary to continually win arguments and convince you they're right."
—ALAN COLMES, Fox News Channel anchor, Hannity & Colmes

"This is a terrific, useful, and usable guide to help us find our way around the roadblocks in life."
—GERALDO RIVERA, Fox News Channel anchor,
At Large with Geraldo Rivera

"I can't believe I wasted all that money on law school. For twenty-five bucks, Lis Wiehl taught me all I need to know and more!"
—MICKEY SHERMAN, CBS News legal analyst and criminal-defense attorney

"From my heart and head I love this book. It's fun, practical, and very real. With intelligence and humor, Lis Wiehl shows us how everyone can tackle life's challenges.
—RIKKI KLIEMAN, legal analyst for Today, NBC-TV

"Lis Wiehl has done a terrific job of applying the best of legal professionalism to everyone's life. She tells about individuals with real problems, and then shows you how to solve your problems with a lawyer's techniques."
—ANTHONY LEWIS, New York Times columnist
and Pultizer Prize–winning author
Ballantine Books, 9780345469205, 304pp.
Publication Date: April 26, 2005
About the Author
Lis Wiehl is one of the nation's most prominent trial lawyers and a highly regarded commentator. She is the legal analyst on the Fox News Channel for Fox & Friends, Hannity & Colmes, and The O'Reilly Factor. She lives with her two children in Westchester County, New York.
or
Not Currently Available for Direct Purchase