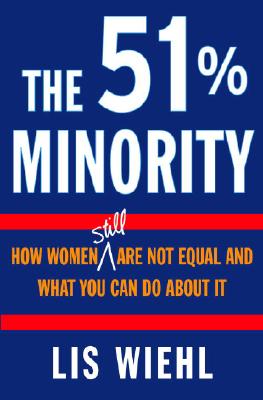 The 51% Minority
How Women Still Are Not Equal and What You Can Do About It
Hardcover

* Individual store prices may vary.
Description
"Lis Wiehl tells us where the law protects us, and where it is letting us down. And as a bonus she gives us the tools to make change happen! If you care about where we are going, you have to read this book."
–Rita Cosby, Emmy Award-winning TV host

Women make up 51% of the American population, yet still aren't treated equally to men in areas that matter most. In this provocative new book, Lis Wiehl, one of the country's top federal prosecutors, reveals the legal and social inequalities women must face in their daily lives–and provides a "Tool Box" for dealing with a variety of issues. From boardroom to courtroom, from pregnancy to contraception, from unequal pay to domestic violence, women are more often than not handed the short end of the stick.

• A woman earns seventy-three cents for every dollar a man makes.
• The law labels pregnancy a "disability."
• Domestic violence remains the single biggest threat of injury to women in America.
• The federal government continues to increase funding for abstinence-only education, even though it's proven to put our daughters at greater risk for unwanted pregnancies and sexually transmitted diseases.
• Health insurance plans are more likely to cover Viagra prescriptions than birth control pills.

What's worse, we're also weighed down by a myriad of troubling attitudes: The media bombard us with images of young, perfect-bodied women; acid-tongued commentators label us "feminazi" if we try to claim equal treatment; and the current chief justice of the Supreme Court has a history of opposing legislative and legal attempts to strengthen women's rights, and questions "whether encouraging homemakers to become lawyers contributes to the common good."

Why are powerful women viewed with consternation while powerful men instill respect? Why is it that for every ten men in an executive, decision-making role in this country, there is only one woman in that same role? Why do our federal courts continue to be stacked with male judges even though women receive more than half of all law degrees? And why shouldn't a woman be president?

Enough! Women are not equal in our society or under our laws and the remedy is quite simple: Besides being the majority of the population, we also control the economy, spending 80 percent of every discretionary dollar, and given that 54 percent of voters are female, we can swing an election. With our numbers we can do something about it.

This is a critical moment: We can either take the road toward equality or allow ourselves to be driven further away from fair treatment. The 51% Minority is a clarion call to the silent majority to take a stand . . . before it's too late.

Praise For The 51% Minority: How Women Still Are Not Equal and What You Can Do About It…
Advance praise for The 51% Minority

"Frequently we hear that young women don't realize how many battles have been fought to guarantee them the rights they enjoy today. In The 51% Minority, Lis Wiehl recalls that history and points out what is left to be done for American women to achieve full equality."
–Geraldine A. Ferraro, former vice presidential candidate

"Yes! Finally! Here is the hidden history of the women's movement in America. The political and legal drama in these pages is at the heart of any true history of American civil rights."
–Juan Williams, NPR, senior correspondent

"With wit, eloquence, and insight, Lis Wiehl explores what women need to do–personally and politically–to achieve equal treatment."
–Deborah L. Rhode, director, Stanford Center on Ethics

"An important discussion of the many ways in which women in the United States remain unequal in the twenty-first century. In clear, understandable language, and with compelling accounts of real women's stories, this book is a must-read for anyone concerned about women's full and equal participation in our society."
–Lenora M. Lapidus, director, Women's Rights Project, ACLU

"Equal rights for all should be non-negotiable. Lis Wiehl shows why we as women must stop taking no for an answer and exactly how to do just that. The 51% Minority should be in every woman's house, whether homemaker, CEO, or both."
–Barbara Corcoran, co-author of Use What You've Got

"A serious and timely wake-up call. Wiehl explains how many of our treasured rights are under attack and how we must respond. Every woman in America should read this book."
–Catherine Crier, anchor, Court TV and bestselling author
Ballantine Books, 9780345469212, 288pp.
Publication Date: February 27, 2007
or
Not Currently Available for Direct Purchase