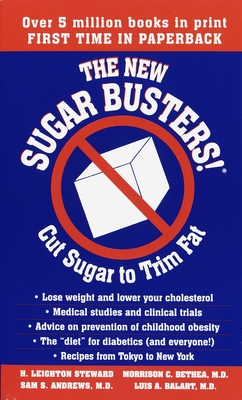 The New Sugar Busters! (Mass Market)
Cut Sugar to Trim Fat
Ballantine Books, 9780345469588, 384pp.
Publication Date: December 2, 2003
* Individual store prices may vary.
Description
WIN THE FIGHT AGAINST FAT–THE SUGAR BUSTERS!® WAY

When SUGAR BUSTERS! hit the shelves almost five years ago, it quickly became a diet and lifestyle phenomenon. The millions of people across the country on the SUGAR BUSTERS! plan discovered that by simply choosing the correct carbohydrates and lowering their sugar intake, they could shed the pounds they failed to lose with other diets. Now the weight-loss program that swept the nation has been completely revised and updated–incorporating all the newest nutritional findings, health statistics, and scientific studies, and featuring all-new, easy-to-follow recipes and meal plans.

Among the wealth of new material in this edition, you'll find amazing testimonials from men and women who are losing weight and feeling fit the SUGAR BUSTERS! way; frequently asked questions and helpful answers; the latest on diabetes–and how SUGAR BUSTERS! can help prevent it; essential facts on women, weight loss, and nutrition; and new tips, updated charts, and practical exercise suggestions.

So arm yourself with the facts and get the figure you've always wanted. When it comes to optimal wellness on the SUGAR BUSTERS! program, it's survival of the fittest–a way of life in which everybody wins!
About the Author
H. Leighton Steward has a master of science degree from Southern Methodist University and became CEO of a Fortune 500 energy company. He is on the board of Tulane University and is chairman of the board of trustees at the Institute for the Study of Earth and Man (anthropology, geology, and statistics). His own success with this way of eating and a family history of diabetes motivated him to write SUGAR BUSTERS! ®

Morrison C. Bethea, M.D., is a graduate of Davidson College and Tulane University School of Medicine. Currently he practices thoracic, cardiac, and vascular surgery in New Orleans. Dr. Bethea is a diplomate of the American Board of Thoracic Surgery, a clinical professor of surgery at Tulane Medical Center, and an author of many publications in the field of cardiovascular disease.

Samuel S. Andrews, M.D., is a graduate of Louisiana State University School of Medicine. He is a recognized expert in the treatment of obesity, and practices endocrinology with the Audubon Internal Medicine Group. He is a fellow in the American College of Physicians and the American College of Endocrinology. He is a clinical associate professor of medicine at the Louisiana State University Medical School in New Orleans.

Luis A. Balart, M.D., is a graduate of Louisiana State University School of Medicine. Dr. Balart is the chief of gastroenterology at the LSU School of Medicine in New Orleans and is Medical Director of Liver Transplantation at Memorial Medical Center. He is actively involved in ongoing clinical trials in the treatment of chronic viral hepatitis and chronic liver disorders. He is the author of many publications in these areas.