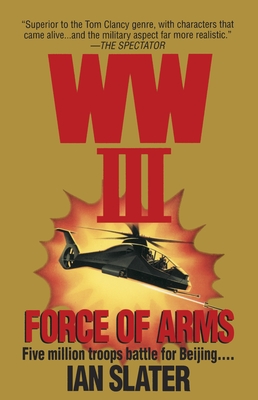 WW III: Force of Arms (Paperback)
Force of Arms
Fawcett Books, 9780345470409, 352pp.
Publication Date: September 5, 2003
Description
Three Chinese armies swarmed across the trace, with T-59s providing covering fire. The Chinese armor, T-60 tanks 85mm guns and 90,000 PLA regulars rush in. Through the downpour the American A-10 Thurnderbolts came in low, their RAU-B Avenger 30mm seven-barreled rotary cannon spitting out a deadly stream of depleted uranium, white-hot fragments that set off the tank's ammunition and fuel tanks into great blowouts of orange-black flame. Four sleek, eighteen-foot long Tomahawk cruise missiles are headed for Beijing. It is Armageddon in Asia.... From the Paperback edition.
About the Author
Ian Slater, a veteran of the Australian Joint Intelligence Bureau, is the author of the World War III novels. He teaches political science at the University of British Columbia and is managing editor of Pacific Affairs. Slater lives in Vancouver, Canada, with his wife and two children.
Advertisement