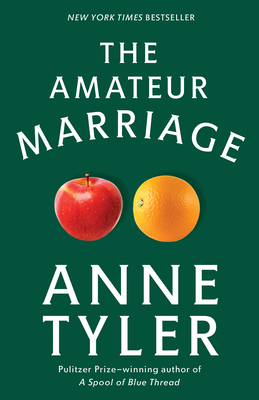 The Amateur Marriage
A Novel
Paperback

* Individual store prices may vary.
Other Editions of This Title:
Digital Audiobook (1/5/2004)
Prebound (10/26/2004)
Hardcover, Large Print, Large Print (1/6/2004)
Mass Market Paperback (1/31/2006)
Compact Disc (1/1/2004)
Paperback (9/1/2004)
Paperback, Spanish (5/1/2005)
Compact Disc (1/6/2004)
Description
From the inimitable Anne Tyler, a rich and compelling novel about a mismatched marriage—and its consequences, spanning three generations.

They seemed like the perfect couple—young, good-looking, made for each other. The moment Pauline, a stranger to the Polish Eastern Avenue neighborhood of Baltimore (though she lived only twenty minutes away), walked into his mother's grocery store, Michael was smitten. And in the heat of World War II fervor, they are propelled into a hasty wedding. But they never should have married.

Pauline, impulsive, impractical, tumbles hit-or-miss through life; Michael, plodding, cautious, judgmental, proceeds deliberately. While other young marrieds, equally ignorant at the start, seemed to grow more seasoned, Pauline and Michael remain amateurs. In time their foolish quarrels take their toll. Even when they find themselves, almost thirty years later, loving, instant parents to a little grandson named Pagan, whom they rescue from Haight-Ashbury, they still cannot bridge their deep-rooted differences. Flighty Pauline clings to the notion that the rifts can always be patched. To the unyielding Michael, they become unbearable.

From the sound of the cash register in the old grocery to the counterculture jargon of the sixties, from the miniskirts to the multilayered apparel of later years, Anne Tyler captures the evocative nuances of everyday life during these decades with such telling precision that every page brings smiles of recognition. Throughout, as each of the competing voices bears witness, we are drawn ever more fully into the complex entanglements of family life in this wise, embracing, and deeply perceptive novel.
Praise For The Amateur Marriage: A Novel…
"An ode to the complexities of familial love, the centripetal and centrifugal forces that keep families together and send their members flying apart, the supremely ordinary pleasures and frustrations of middle-class American life."
--Michiko Kakutani, New York Times

"Tyler ranges over 60 years of American experience… from the attack on Pearl Harbor to the anniversary of that day in 2001…as she tracks one couple's domestic disturbances…[Her] writing is beautifully accurate, more often than not with a glinting vein of humor."
–William H. Pritchard, New York Times Book Review, front cover

"She evokes the entire sweep of [a marriage] with uncommon delicacy & dignity… gives us the feeling of being inside Michael and Pauline Anton's marriage."
–John Freeman, St. Louis Post-Dispatch

"She traces the stormy union of two people who love but can't stand each other."
–Kirkus Reviews

"This 'wickedly good' author has come to represent the best of today's American literature… She is an exquisite chronicler of the everyday
…Her characters are at once infuriating and endearing, conservative yet quietly eccentric."
–Lisa Allardice, The Observer, London

"Her command of what will move a story forward & engross a reader is faultless."
–Martha Southgate, Baltimore Sun

"She expertly explores the perils of marriage… Wise & observant…She has the uncanny ability to expose the most confusing contradictions of love." –Connie Ogle, Miami Herald

"In the fervor of WWII, Michael and Pauline rush head-long into marriage, then live in a constant state of turmoil …We watch safely from a distance like a busybody neighbor hiding behind the curtains, judgmental yet fascinated."
–Kim Askew, Elle magazine
Vintage, 9780345470614, 320pp.
Publication Date: October 26, 2004
About the Author
Anne Tyler was born in Minneapolis in 1941 but grew up in Raleigh, North Carolina. She graduated at nineteen from Duke University and went on to do graduate work in Russian studies at Columbia University. This is Anne Tyler's sixteenth novel; her eleventh, Breathing Lessons, was awarded the Pulitzer Prize in 1988. She is a member of the American Academy and Institute of Arts and Letters. She lives in Baltimore.