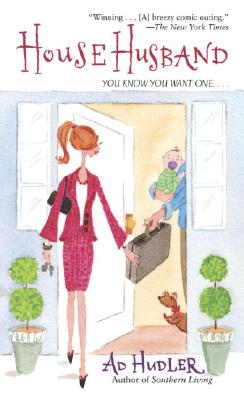 Househusband (Mass Market Paperback)
Ballantine Books, 9780345470621, 304pp.
Publication Date: April 27, 2004
* Individual store prices may vary.
or
Not Currently Available for Direct Purchase
Description
When his wife, Jo, is offered her dream job, Lincoln Menner leaves his thriving landscape business in Los Angeles and moves to Rochester, New York. This will be his chance to start over, spend a little time with their three-year-old daughter, and finally do things right at home.
But Linc had no idea what it really meant to be a househusband: to stay home every day, folding laundry, cleaning soap scum, and teaching his little girl to use the potty. To be ignored at parties by his wife's colleagues who see him as just a homemaker. Though he soon has the house humming, Linc misses the outside world. Most of all he misses Jo, who works too late and barely notices the fabulous dinners he slaves over. Drastic action must be taken to make his efficiently run house truly a home, sweet home. And Linc knows he is just the man for the job
About the Author
Ad Hudler is a stay-at-home dad and author of the novel Southern Living. He lives in Florida and can be reached through his Web site at www.adhudler.com.
Praise For Househusband…
"Winning . . . [A] breezy comic outing."
—The New York Times

"You'll think it's a man's world until you read Househusband, Ad Hudler's hilarious debut. It will make you laugh, cry, and eat— move over Martha Stewart: wait until you taste his tortellini!"
—ADRIANA TRIGIANI
Author of Big Stone Gap

"[AN] ENGAGING DEBUT . . . With self-deprecating humor and adroit expression, Hudler delves deep into the American psyche of gender roles. . . . The dialogue rings with authenticity."
—The State (Columbia, SC)

"[AN] ENTERTAINING DEBUT."
—Publishers Weekly

"A funny and insightful book . . . Should be required reading for men who wonder what their wives do all day."
—LORNA LANDVIK
Author of Patty Jane's House of Curl

"I've always believed that everyone, man or woman, needs a wife. Apparently, so does Ad Hudler. He has written a very funny book on a serious subject—contemporary gender roles. And he can bake a cherry pie. Wotta man!"
—SARA MOULTON
Host of Sara's Secrets and
executive chef for Gourmet magazine

"A perfect dinner party of a novel, filled with humorous stories, touching moments, and a generous serving of mouth-watering recipes."
—The News-Press (Ft. Myers, FL)

"Househusband is hilarious, smart, surprising, and full of mouth-watering descriptions of gourmet meals concocted on the fly (recipes included). But the best thing about Ad Hudler's ingenious novel is its fresh perspective on humanity's oldest conundrum: [the] relations between the sexes."
—JENNY MCPHEE
Author of The Center of Things

"Funny neurotic, and endearingly vulnerable, Linc will win your heart— and make you wish you had a househusband of your own."
—Today's Charlotte Woman

"Hudler creates a light and humorous tone that is a perfect match for this entertaining look at how much work really goes into keeping a house clean and a family fed."
—Library Journal

"[A] moving story that gives a fresh perspective on the challenges and frustrations of a typically underappreciated job."
—Booklist


Advertisement