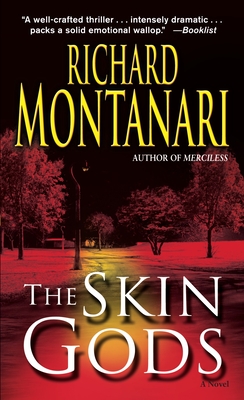 The Skin Gods (Mass Market Paperbound)
Ballantine Books, 9780345470980, 402pp.
Publication Date: July 31, 2007
* Individual store prices may vary.
or
Not Currently Available for Direct Purchase
Description
With the breakneck pacing and intricate plotting of his most recent novel, The Rosary Girls, Richard Montanari established himself as one of the most exciting suspense writers working today. Now he proves himself a virtuoso with The Skin Gods, an explosive new thriller featuring Philadelphia homicide detectives Kevin Byrne and Jessica Balzano.
It is the steaming heart of summer in the City of Brotherly Love. Back on the force after taking a bullet during the arrest of a sadistic murderer, Detective Kevin Byrne warily returns to police headquarters. He cannot shake the memory of the Rosary Killer's innocent victims-or his growing sense that the evil has not been vanquished. And when he and his partner, Detective Jessica Balzano, are called in on a bizarre case, Byrne's gravest suspicions are confirmed.
A madman, dubbed The Actor by the homicide unit, is meticulously re-creating Hollywood's most famous-and most gruesome-death scenes. The first murder is caught on film, spliced into a rented VHS edition of the Hitchcock black-and-white masterpiece Psycho. But in place of Janet Leigh is a real-life woman, and this time, the blood is red and the knife is real. Soon, more thrilling classics are turned into terrifying snuff films and placed on video store shelves for an unsuspecting public to find.
The key to this horrific puzzle could lie with any of The Skin Gods' supporting cast: the A-list Hollywood director, the ruthless executive assistant, the convicted mass murderer-or perhaps someone else who has made a sinister art of gruesome violence.
Hot on the psychopath's trail, Balzano and Byrne descend into the mouth of madness and beyond, deep into the depraved underworld of S&M clubs and the porn industry, where the worship of flesh leads to malevolent evil. Before the final credits roll, the investigators will discover that none of The Actor's victims are as innocent as they appear to be, and that the clue the police need to prevent future murders might be found in Detective Byrne's own dark past.
From the Hardcover edition.
About the Author
Richard Montanari is a novelist, screenwriter, and essayist. His work has appeared in the Chicago Tribune, Detroit Free Press, Cleveland Plain Dealer, and scores of other national and regional publications. He is the OLMA-winning author of the internationally acclaimed thrillers The Rosary Girls, Kiss of Evil, Deviant Way, and The Violet Hour. Visit the author's website at www.richardmontanari.com. From the Hardcover edition.
Praise For The Skin Gods…
Praise for Richard Montanari's The Rosary Girls

"Readers of this terrifying page-turner are in the hands of a master storyteller. Be prepared to stay up all night."
–James Ellroy

"Thoroughly creepy . . . [an] effective blend of the angelic and the demonic . . . Montanari gets it right."
–The Philadelphia Inquirer

"A relentlessly suspenseful, soul-chilling thriller that hooks you instantly."
–Tess Gerritsen

"Gripping . . . You begin The Rosary Girls out of curiosity but finish it out of compulsion."
–Cleveland Plain Dealer

"Nonstop action and nail-biting suspense . . . a page-turning heart-stopping winner."
–Kingston Observer

"A no-holds-barred thriller . . . Those with a taste for Thomas Harris will look forward to the sure-to-follow sequel."
–Library Journal
Advertisement