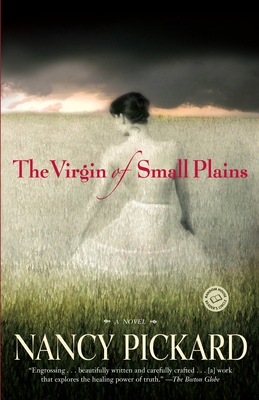 The Virgin of Small Plains (Paperback)
A Novel
Ballantine Books, 9780345471000, 368pp.
Publication Date: May 29, 2007
* Individual store prices may vary.
Description
"Engrossing . . . beautifully written and carefully crafted . . . [a] work that explores the healing power of truth."—The Boston Globe

For seventeen years, a rural community in Kansas has faithfully tended the grave of an anonymous teenage girl christened the Virgin of Small Plains. And some claim that, perhaps owing to the girl's intervention, strange miracles and unexplainable healings have occurred. Slowly, word of the legend spreads.

But what really happened in that snow-covered field almost two decades ago, when the girl's naked, frozen body was found? Why did young Mitch Newquist disappear the day after the shocking discovery, leaving behind his distraught girlfriend, Abby Reynolds, and their best friend, Rex Shellenberger?

Now Mitch has returned to Small Plains, reigniting simmering tensions and awakening secrets. Never having resolved her feelings for Mitch, Abby is determined to uncover the startling truth about his departure. The three former friends must confront the ever-unfolding consequences of the night that forever changed their lives—and the life of their small town.

Praise for The Virgin of Small Plains

"Nancy Pickard . . . has evolved into a writer of substantial literary power. . . . [She] has fashioned a novel that accurately reflects the secrets and silences locked deep within the hearts of all small-town Midwesterners."—The Denver Post

"Tantalizing . . . Pickard writes with insight and compassion about an unresolved crime that continues to haunt a farming community."—The New York Times Book Review

"A class act . . . Pickard has a talent for adding depth to a story that conveys a sense of place and history."—Orlando Sentinel

"Crisply written, this new novel about loss of faith, trust, and innocence is utterly absorbing."—Tucson Citizen
About the Author
Nancy Pickard is the creator of the acclaimed Jenny Cain mystery series. She has won the Anthony Award, two Macavity Awards, and two Agatha Awards for her novels. She is a three-time Edgar Award nominee, most recently for her first Marie Lightfoot mystery, The Whole Truth, which was a national bestseller. With Lynn Lott, Pickard co-authored Seven Steps on the Writer's Path. She has been a national board member of the Mystery Writers of America, as well as the president of Sisters in Crime. She lives in Prairie Village, Kansas. Visit her website at www.nancypickardmysteries.com.
Praise For The Virgin of Small Plains: A Novel…
"Engrossing . . . beautifully written and carefully crafted . . . [a] work that explores the healing power of truth."—The Boston Globe

"Nancy Pickard . . . has evolved into a writer of substantial literary power. . . . [She] has fashioned a novel that accurately reflects the secrets and silences locked deep within the hearts of all small-town Midwesterners."—The Denver Post

"Tantalizing . . . Pickard writes with insight and compassion about an unresolved crime that continues to haunt a farming community."—The New York Times Book Review 

"A class act . . . Pickard has a talent for adding depth to a story that conveys a sense of place and history."—Orlando Sentinel 

"Crisply written, this new novel about loss of faith, trust, and innocence is utterly absorbing."—Tucson Citizen