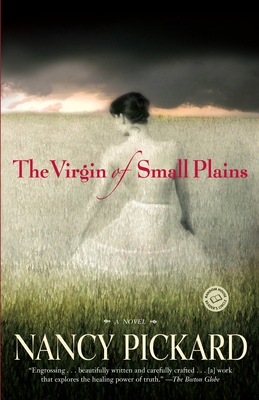 The Virgin of Small Plains (Paperback)
A Novel
Ballantine Books, 9780345471000, 368pp.
Publication Date: May 29, 2007
* Individual store prices may vary.
Description
Small Plains, Kansas, January 23, 1987: In the midst of a deadly blizzard, eighteen-year-old Rex Shellenberger scours his father's pasture, looking for helpless newborn calves. Then he makes a shocking discovery: the naked, frozen body of a teenage girl, her skin as white as the snow around her. Even dead, she is the most beautiful girl he's ever seen. It is a moment that will forever change his life and the lives of everyone around him. The mysterious dead girl–the "Virgin of Small Plains"–inspires local reverence. In the two decades following her death, strange miracles visit those who faithfully tend to her grave; some even believe that her spirit can cure deadly illnesses. Slowly, word of the legend spreads.

But what really happened in that snow-covered field? Why did young Mitch Newquist disappear the day after the Virgin's body was found, leaving behind his distraught girlfriend, Abby Reynolds? Why do the town's three most powerful men–Dr. Quentin Reynolds, former sheriff Nathan Shellenberger, and Judge, Tom Newquist–all seem to be hiding the details of that night?

Seventeen years later, when Mitch suddenly returns to Small Plains, simmering tensions come to a head, ghosts that had long slumbered whisper anew, and the secrets that some wish would stay buried rise again from the grave of the Virgin. Abby–never having resolved her feelings for Mitch–is now determined to uncover exactly what happened so many years ago to tear their lives apart.

Three families and three friends, their worlds inexorably altered in the course of one night, must confront the ever-unfolding consequences in award-winning author Nancy Pickard's remarkable novel of suspense. Wonderfully written and utterly absorbing, The Virgin of Small Plains is about the loss of faith, trust, and innocence . . . and the possibility of redemption.


From the Hardcover edition.
About the Author
Nancy Pickard is the creator of the acclaimed Jenny Cain mystery series. She has won the Anthony Award, two Macavity Awards, and two Agatha Awards for her novels. She is a three-time Edgar Award nominee, most recently for her first Marie Lightfoot mystery, The Whole Truth, which was a national bestseller. With Lynn Lott, Pickard co-authored Seven Steps on the Writer's Path. She has been a national board member of the Mystery Writers of America, as well as the president of Sisters in Crime. She lives in Prairie Village, Kansas. Visit her website at www.nancypickardmysteries.com.


From the Hardcover edition.
Praise For The Virgin of Small Plains: A Novel…
Advance praise for The Virgin of Small Plains

"The Virgin of Small Plains will keep you up all night. Nancy Pickard's intelligent, suspenseful storytelling never disappoints."
–Julie Garwood

"Like the heart-stopping skid that sets it in motion, this book hurtles inexorably toward a startling conclusion. Along the way Nancy Pickard wrests magic from the everyday and redemption from broken dreams. The Virgin Of Small Plains is a beautiful and resonant book."
–Carol Goodman, author of The Ghost Orchid

"An unforgettable tale of love, lust, faith, betrayal, and redemption. A powerful, mesmerizing suspense novel–a tour de force!"
–Judith Kelman, author of The Session

"A hold-your-breath suspense story–sexy, warm, and poignant, with aching loss and a human desire for miracles. Pickard's best book yet."
–Margaret Maron, author of Rituals of the Season




From the Hardcover edition.