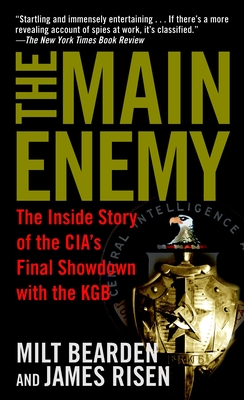 The Main Enemy: The Inside Story of the CIA's Final Showdown with the KGB (Mass Market Paperbound)
The Inside Story of the CIA's Final Showdown with the KGB
Presidio Press, 9780345472502, 576pp.
Publication Date: August 31, 2004
Description
A landmark collaboration between a thirty-year veteran of the CIA and a Pulitzer Prize-winning journalist,
The Main Enemy
is the dramatic inside story of the CIA-KGB spy wars, told through the actions of the men who fought them.
Based on hundreds of interviews with operatives from both sides, The Main Enemy puts us inside the heads of CIA officers as they dodge surveillance and walk into violent ambushes in Moscow. This is the story of the generation of spies who came of age in the shadow of the Cuban missile crisis and rose through the ranks to run the CIA and KGB in the last days of the Cold War. The clandestine operations they masterminded took them from the sewers of Moscow to the back streets of Baghdad, from Cairo and Havana to Prague and Berlin, but the action centers on Washington, starting in the infamous "Year of the Spy"--when, one by one, the CIA's agents in Moscow began to be killed, up through to the very last man.
Behind the scenes with the CIA's covert operations in Afghanistan, Milt Bearden led America to victory in the secret war against the Soviets, and for the first time he reveals here what he did and whom America backed, and why. Bearden was called back to Washington after the Soviets withdrew from Afghanistan and was made chief of the Soviet/East Euro-pean Division--just in time to witness the fall of the Berlin Wall, the revolutions that swept across Eastern Europe, and the implosion of the Soviet Union.
Laced with startling revelations--about fail-safe top-secret back channels between the CIA and KGB, double and triple agents, covert operations in Berlin and Prague, and the fateful autumn of 1989--
The Main Enemy
is history at its action-packed best.
From the Hardcover edition.
About the Author
A thirty-year veteran of the CIA's clandestine services, Milt Bearden was chief of the Soviet/East European Division at the time of the collapse of the Soviet Union. As CIA chief in Pakistan, he supplied the Afghan freedom fighters who overthrew the Soviets. He received the Donovan Award and the Distinguished Intelligence Medal, the CIA's highest honor. He is featured in the Discovery Channel's Secret Warriors and the BBC's Covert Action. He was born in Oklahoma and spent his childhood in Washington State, where his father worked on the Manhattan Project. He served in the Air Force before joining the CIA in 1964 and currently lives outside Washington, D.C., with his French-born wife. James Risen covers national security for The New York Times. He was a member of the team that won the Pulitzer Prize for explanatory reporting in 2002 for coverage of September 11 and terrorism, and he is coauthor of Wrath of Angels. He lives outside Washington, D.C., with his wife and three sons. From the Hardcover edition.
Praise For The Main Enemy: The Inside Story of the CIA's Final Showdown with the KGB…
ADVANCE PRAISE FOR THE MAIN ENEMY

"Risen, the journalistic outsider, and Bearden, the clandestine insider, have combined their insight and knowledge to give us a compelling account of the last fierce days of Cold War machinations between Soviet and American intelligence. This is history very up close and very personal." --Seymour M. Hersh

"Fascinating stuff . . . an inside view of a complex world . . . it doesn't get any better than this. It's great." --Robert De Niro

"Some study war from an armchair; others through field glasses. The best go into the firing line. Milt Bearden of the CIA was one of those. For those of us who recall the Cold War, this is fascinating stuff. For those who are too young, read and learn."--Frederick Forsyth, author of The Day of the Jackal and The Dogs of War
Advertisement