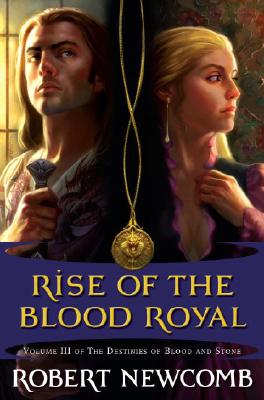 Rise of the Blood Royal
Volume III of the Destinies of Blood and Stone
Hardcover

* Individual store prices may vary.
Other Editions of This Title:
Paperback (12/30/2008)
Description
The long-awaited moment is here, as Robert Newcomb brings his epic trilogy, The Destinies of Blood and Stone, to a triumphant close. Old questions will receive unexpected answers. Ancient prophecies will come to pass. New wonders and horrors will be revealed. And the lives of Prince Tristan and his sister, Shailiha–the Chosen Ones who alone can unite the sundered powers of the beneficent Vigors and the evil Vagaries–will change forever.

On the far side of the impassable Tolenka Mountains, where the countries of Rustannica and Shashida fight an endless War of Attrition, a turning point has come. Vespasian, emperor of Rustannica, is desperate. The relentless battle has left his country battered and the treasury all but empty. Unless he can achieve a breakthrough his armies will crumble and the cause of the Vagaries will go down in abject defeat. But if he gathers all his strength in one daring throw of the dice, Vespasian may yet prevail.

Meanwhile, in Eutracia, the wizards Faegan and Wigg make a startling discovery–a new form of magic that grants its users amazing powers. Among them may be an unforeseen method of crossing the Tolenka Mountains and entering directly into the War of Attrition, tilting the balance in favor of the Vigors . . . and bringing Tristan into full possession of the mystic endowments in his blood.

But a new threat has surfaced in Eutracia. An ancient Vagaries spell has borne its poisonous fruit: half-human, half-serpent monstrosities who live only to slay and are commanded by a hideously transformed sorcerer-demon known as the Viper Lord.

Now, as Tristan departs on a risky mission to cross into Rustannica and meet his destiny in an apocalyptic confrontation with Vespasian, Shailiha will remain behind to battle the Viper Lord and his murderous horde. Failure is unthinkable. But the cost of victory may be impossibly high.
Praise For Rise of the Blood Royal: Volume III of the Destinies of Blood and Stone…
PRAISE FOR ROBERT NEWCOMB

The Destinies of Blood and Stone

A March Into Darkness

"[An] epic fantasy saga . . . vividly portrays the ongoing struggle between good and evil. Reminiscent in scope and detail of the works of Terry Goodkind and Robert Jordan."
–Library Journal

Savage Messiah

"Meticulously plotted action . . . another megafantasy along the lines of Robert Jordan's Wheel of Time."
–Booklist

The Chronicles of Blood and Stone

The Fifth Sorceress

"[Robert Newcomb] springs into fame and literary maturity in a single bound. . . . Tristan is the novel's main strength, an intriguing and all-too-human hero who becomes a dashing warrior challenging an empire."
–Orlando Sentinel

The Gates of Dawn

"Impressive . . . These personifications of light and dark are beautifully and vividly drawn. The intense emotions on both sides are expressed with astuteness and feeling."
–SFX magazine

The Scrolls of the Ancients

"Plenty of adventure and magic . . . continues Robert Newcomb's tradition of mixing adventure with an interesting and well-realized magical world."
–SF Site
Del Rey, 9780345477118, 544pp.
Publication Date: December 26, 2007
or
Not Currently Available for Direct Purchase