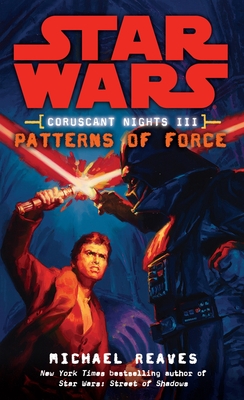 Patterns of Force
Star Wars Legends (Coruscant Nights, Book III) (Star Wars: Coruscant Nights - Legends #3)
Mass Market

* Individual store prices may vary.
Description
After the Empire's bloody purge of the Jedi, one lone Knight still fights for those who cannot, unaware that he's about to be swept into a cataclysmic battle against the Master of Darkness himself.

Throughout the galaxy, a captured Jedi is a dead Jedi, even in Coruscant's most foul subterranean slums, where Jedi Knight Jax Pavan champions the causes of the oppressed with the help of hard-nosed reporter Den Dhur and the wisecracking droid I-5YQ. But Jax is also involved in another struggle–to unlock the secrets of his father's death and his own past.

While Jax believes that I-5YQ holds some of those answers, he never imagines that the truth could be shocking enough to catapult him to the frontlines of a plot to kill Emperor Palpatine. Worse yet, Darth Vader's relentless search for Jax is about to end . . . in triumph.

The future looming over the valiant Jedi and his staunch pals promises to be dark and brief, because there's no secret whatsoever about the harshest truth of all: Few indeed are those who tangle with Darth Vader . . . and live to tell the tale.
Del Rey, 9780345477583, 304pp.
Publication Date: January 27, 2009
About the Author
Michael Reaves received an Emmy Award for his work on the Batman television animated series. He has worked for DreamWorks, among other studios, and has written fantasy novels and supernatural thrillers. Reaves is the New York Times bestselling author of the Star Wars: Coruscant Nights novels Jedi Twilight and Street of Shadows, and Star Wars: Darth Maul: Shadow Hunter, as well as the co-writer (with Steve Perry) of Star Wars: Death Star and two Star Wars: MedStar novels: Battle Surgeons and Jedi Healer. He lives in the Los Angeles area.