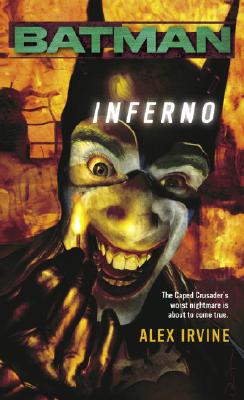 Inferno (Mass Market Paperbound)
Del Rey Books, 9780345479457, 339pp.
Publication Date: October 31, 2006
Description
Gotham's never been so scorching, the Joker's never been more despicable, and Batman's never been in such grave danger. With more than thirty fires raging out of control across the city, Gotham is indeed a hell on earth. But torching the population is small potatoes for the arsonist extraordinaire known as Enfer. The pyromaniac's mad masterpiece is Arkham Asylum, blazing like a Roman candle and engineered to provide the perfect escape for Arkham's most infamous inmate, the Joker. But the dire situation goes from bad to beyond monstrous when the archvillain's path to freedom leads directly to the Dark Knight's cave. The Joker believes in striking while the iron is hot . . . and now it's never been hotter. After all, the diabolical villain has devised the ultimate joke: launch the mother of all crime waves, masquerading as the Caped Crusader himself With Gotham erupting in flames and its #1 crime fighter fast becoming its #1 enemy, the burning question is: Who's going to get the last laugh?
About the Author
Alex Irvine is the author of The Narrows; One King, One Soldier; and A Scattering of Jades, which won the Crawford Award for best new writer. He was a finalist for the Campbell Award for best new writer and a Pushcart Award nominee for his short story "Snapdragons." Irvine's short fiction has appeared in the Vestal Review, The Magazine of Fantasy & Science Fiction, Alchemy, and The Year's Best Science Fiction, among others. He lives in Portland, Maine.
Advertisement