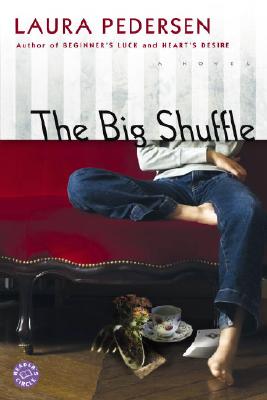 The Big Shuffle (Paperback)
Ballantine Books, 9780345479563, 387pp.
Publication Date: October 31, 2006
* Individual store prices may vary.
or
Not Currently Available for Direct Purchase
Description
"We're approaching Cat in the Hat level chaos and no one's even had breakfast yet."
When the death of her father leaves her mother bereft and incapacitated, card shark Hallie Palmer returns home from college to raise Hallie's eight younger siblings. Hallie's older brother has a scholarship and a sensible major-which translates to free tuition and desperately needed future income for the family. So it's up to Hallie to deal herself in as head of the chaotic household.
But even after the invasion of those well-meaning, casserole-carrying purveyors of comfort the local church ladies, Hallie's in a downward spiral. Thank goodness for old friends like Bernard and Gil, now proud parents, who keep Hallie afloat with good humor, brilliant organizational skills, and Judy Garland's most quotable quotes-not that life is entirely peaceful now that Bernard's wise, willful, and delightfully outrageous mother, Olivia, is back from Europe with a big (and shockingly young) surprise.
Through it all, Hallie discovers that life can indeed turn on a dime, and that every coin has two sides plus an edge. Just because beginner's luck doesn't always last forever doesn't mean you're out of the game.
About the Author
Laura Pedersen is an author and playwright from Buffalo, New York. After finishing high school in 1983, she moved to Manhattan and began working on the American Stock Exchange, later spending the better part of the 1990s writing for The New York Times. In 1994, President Clinton honored her as one of Ten Outstanding Young Americans. She has appeared on varioius TV shows, including Oprah, Good Morning America, Primetime Live, and The Late Show with David Letterman. In 2001, her first novel, Going Away Party, won the Three Oaks Prize for fiction. Her other books include Beginner's Luck, The Big Shuffle, Heart's Desire, and Last Call. Laura lives in New York City.
Praise For The Big Shuffle…
"Laura Pedersen's lively imagination has created a cast of zany characters and an unforgettable heroine."
–Bev Marshall, author of Hot Fudge Sundae Blues, on Heart's Desire
Advertisement