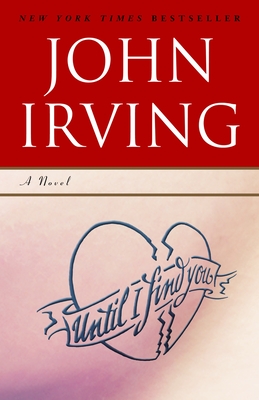 Until I Find You
A Novel
Paperback

* Individual store prices may vary.
Other Editions of This Title:
Digital Audiobook (4/17/2006)
Description
Until I Find You is the story of the actor Jack Burns – his life, loves, celebrity and astonishing search for the truth about his parents.

When he is four years old, Jack travels with his mother Alice, a tattoo artist, to several North Sea ports in search of his father, William Burns. From Copenhagen to Amsterdam, William, a brilliant church organist and profligate womanizer, is always a step ahead – has always just departed in a wave of scandal, with a new tattoo somewhere on his body from a local master or "scratcher."

Alice and Jack abandon their quest, and Jack is educated at schools in Canada and New England – including, tellingly, a girls' school in Toronto. His real education consists of his relationships with older women – from Emma Oastler, who initiates him into erotic life, to the girls of St. Hilda's, with whom he first appears on stage, to the abusive Mrs. Machado, whom he first meets when sent to learn wrestling at a local gym.

Too much happens in this expansive, eventful novel to possibly summarize it all. Emma and Jack move to Los Angeles, where Emma becomes a successful novelist and Jack a promising actor. A host of eccentric minor characters memorably come and go, including Jack's hilariously confused teacher the Wurtz; Michelle Maher, the girlfriend he will never forget; and a precocious child Jack finds in the back of an Audi in a restaurant parking lot. We learn about tattoo addiction and movie cross-dressing, "sleeping in the needles" and the cure for cauliflower ears. And John Irving renders his protagonist's unusual rise through Hollywood with the same vivid detail and range of emotions he gives to the organ music Jack hears as a child in European churches. This is an absorbing and moving book about obsession and loss, truth and storytelling, the signs we carry on us and inside us, the traces we can't get rid of.

Jack has always lived in the shadow of his absent father. But as he grows older – and when his mother dies – he starts to doubt the portrait of his father's character she painted for him when he was a child. This is the cue for a second journey around Europe in search of his father, from Edinburgh to Switzerland, towards a conclusion of great emotional force.

A melancholy tale of deception, Until I Find You is also a swaggering comic novel, a giant tapestry of life's hopes. It is a masterpiece to compare with John Irving's great novels, and restates the author's claim to be considered the most glorious, comic, moving novelist at work today.
Praise For Until I Find You: A Novel…
"As ever, Irving is at his best with the family relationships he creates. They are simultaneously touching and infuriating. It is with these relationships that Irving firmly grasps universal truths and puts a chokehold on his readers…. Irving's descriptions are distressing to read, but they force the reader to relate to the characters in a way they would not in most works of fiction."
–Calgary Herald

"Bittersweet . . . moving."
–People

"Until I Find You . . . cuts closer to the bone than any of [Irving's] previous works."
–Ottawa Citizen

Praise for John Irving:

John Irving has received awards from the Rockefeller Foundation, the National Endowment for the Arts and the Guggenheim Foundation; he has won an O. Henry Award, a National Book Award and an Oscar.

"Irving's novels are perceptive and precise reflections of the world around us."
—The Washington Post Book World

"John Irving is one of the very finest writers alive today."
—The Associated Press

"A serious artist of remarkable powers."
—Chicago Sun-Times

"Irving's popularity is not hard to understand. His world is really the world according to nearly everyone."
—Time

"A premier storyteller, master of the tragicomic and among the first rank of contemporary novelists."
—Los Angeles Times Book Review

"[Irving's] instincts are so basically sound, his talent for storytelling so bright and strong that he gets down to the truth of his time.
—The New York Times Book Review

"John Irving is a writer of prodigious talent."
—Calgary Herald

"John Irving is devoted to his people and his plots in a way that makes him unique among the most popular and widely read of the living American novelists. He has become his generation's Dickens."
—NOW Magazine

"He is among the very best storytellers at work today. At the base of Irving's own moral concerns is a rare and lasting regard for human kindness."
—The Philadelphia Inquirer

Praise for The Fourth Hand:
"A rich and deeply moving tale. . .Vintage Irving: A story of two very disparate people, and the strange ways we grow. . . . Irving's novels are perceptive and precise reflections of the world around us."
—The Washington Post Book World

"Using comedy, satiric social commentary and his adroit ability to tell a good yarn, Irving proffers a sweet love story with the very serious underlying theme of human transformation."
—Ottawa Citizen

"John Irving is one of the very finest writers alive today."
—The Associated Press
Ballantine Books, 9780345479723, 848pp.
Publication Date: May 30, 2006
About the Author
John Irving has been nominated for a National Book Award three times—winning once, in 1980, for the novel The World According to Garp. In 1992, Mr. Irving was inducted into the National Wrestling Hall of Fame in Stillwater, Oklahoma. In 2000, he won the Oscar for Best Adapted Screenplay for The Cider House Rules—a film with seven Academy Award nominations.