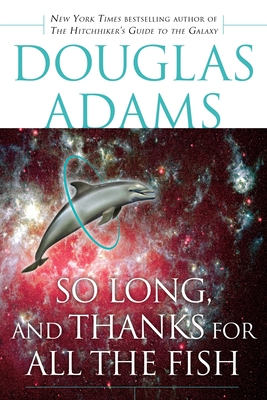 So Long, and Thanks for All the Fish (Paperback)
Del Rey Books, 9780345479969, 224pp.
Publication Date: April 26, 2005
Description
Back on Earth with nothing more to show for his long, strange trip through time and space than a ratty towel and a plastic shopping bag, Arthur Dent is ready to believe that the past eight years were all just a figment of his stressed-out imagination. But a gift-wrapped fishbowl with a cryptic inscription, the mysterious disappearance of Earth's dolphins, and the discovery of his battered copy of The Hitchhiker's Guide to the Galaxy all conspire to give Arthur the sneaking suspicion that something otherworldly is indeed going on. God only knows what it all means. Fortunately, He left behind a Final Message of explanation. But since it's light-years away from Earth, on a star surrounded by souvenir booths, finding out what it is will mean hitching a ride to the far reaches of space aboard a UFO with a giant robot. But what else is new?
About the Author
Douglas Adams was born in 1952 and educated at Cambridge. He was the author of five books in the Hitchhiker's Trilogy, including The Hitchhiker's Guide to the Galaxy; The Restaurant at the End of the Universe; Life, the Universe and Everything; So Long, and Thanks for All the Fish; and Mostly Harmless. His other works include Dirk Gently's Holistic Detective Agency; The Long Dark Tea-Time of the Soul; The Meaning of Liff and The Deeper Meaning of Liff (with John Lloyd); and Last Chance to See (with Mark Carwardine). His last book was the bestselling collection, The Salmon of Doubt, published posthumously in May 2002.You can find more about Douglas Adam's life and works at douglasadams.com.
Praise For So Long, and Thanks for All the Fish…
"The looniest of the lot."—Time

"A madcap adventure . . . Adams's writing teeters on the fringe of inspired lunacy."—United Press International

"The most ridiculously exaggerated situation comedy known to created beings . . . Adams is irresistible."—Boston Globe

Advertisement