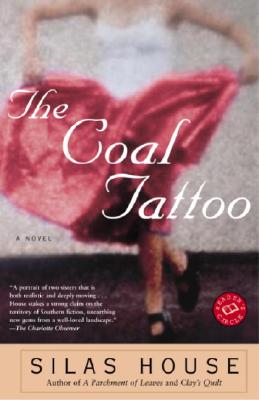 The Coal Tattoo (Paperback)
A Novel
Ballantine Books, 9780345480057, 368pp.
Publication Date: August 30, 2005
* Individual store prices may vary.
Description
Life isn't easy for twenty-two year old Easter and her teenage sister Anneth, who were left parentless as young children. While Easter, a devout Pentecostal, finds solace in the powerful music of her church, Anneth seeks comfort in the rougher edges of life found in dancing, drinking, and fast living. Easter believes in tradition and is intent on rearing her wild young sister properly, but it's only a matter of time before a wedge is driven between them–and threatens to undo their bond forever. . . .
About the Author
Silas House is the author of Clay's Quilt, A Parchment of Leaves, The Coal Tattoo, Eli the Good, Same Sun Here (co-authored with Neela Vaswani, 2012); three plays, The Hurting Part, Long Time Travelling, This Is My Heart For You; and Something's Rising, a creative nonfiction book about social protest co-authored with Jason Howard. House was selected to edit the posthumous manuscript of acclaimed writer James Still, Chinaberry. House was born and raised in Eastern Kentucky. He is the father of two daughters and has three dogs: Rufus, Holly, and Pepper. He divides his time between London and Berea, Kentucky.
Praise For The Coal Tattoo: A Novel…
"A portrait of two sisters that is both realistic and deeply moving . . . House stakes a strong claim on the territory of Southern fiction, unearthing new gems from a well-loved landscape."
–The Charlotte Observer

"[This] lovely novel . . . about the love and survival skills of two very different sisters . . . is powered by a strong sense of place."
–USA Today

"[House is] a writer of startling abilities . . . a master at rendering his characters' emotional terrain as real and accessible."
–The Atlanta Journal-Constitution

"Full of heartbreaking beauty and suffering . . . House brings vividly to life the Appalachian Mountains. . . . His love of the land comes through his words, and his admiration of the people colors every character."
–Richmond Times-Dispatch

"Some characters wear coal tattoos, patches of coal buried in the skin. . . . The author brands the readers with a similarly indelible mark as we become enmeshed in the lives of these people; it's a badge to be worn proudly."
–Southern Living

"A deeply emotional story . . . How do we cope with tragedy and heartbreak? The Coal Tattoo describes the struggles that all of us must endure to be human."
–Dayton Daily News

"Engrossing . . . [A] pitch-perfect tale."
–Seattle Post-Intelligencer
or
Not Currently Available for Direct Purchase