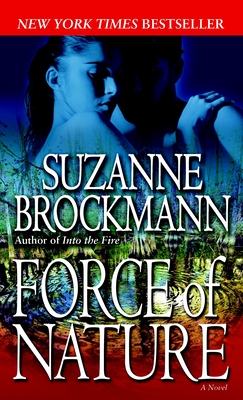 Force of Nature (Troubleshooters #11) (Mass Market Paperbound)
Ballantine Books, 9780345480170, 499pp.
Publication Date: June 24, 2008
* Individual store prices may vary.
or
Not Currently Available for Direct Purchase
Description
Hard-driving suspense and intense passion are the hallmarks of bestselling author Suzanne Brockmann's pulse-pounding thrillers. In her tales of daring, danger, courage, and desire, men and women of action fight fiercely, love deeply, and time after time raise the bar for adventure. Force of Nature is no exception. Florida private investigator and ex-cop Ric Alvarado's life is spiraling out of control. His beautiful new girl Friday, Annie Dugan, is far more interested in fieldwork than filing, and despite Ric's best efforts to ignore the attraction, sparks are flying between them. Then one of Ric's clients turns femme fatale and tries to gun down an innocent man. Thanks to quick thinking and even quicker reflexes, Ric comes to the rescue, only to learn he's done a very good deed for some very bad people. Suddenly Ric finds himself deep undercover with Annie, working for notorious crime boss Gordon Burns. One mistake from Ric's painfully inexperienced partner and they're both dead. FBI agent Jules Cassidy's life isn't in much better shape. For years the FBI has been trying to prove Gordon Burns's ties to terrorist activity. Now, thanks to Ric and Annie, Jules has found a way into the lion's den. But in the course of his investigation he comes face-to-face with Robin Chadwick, the charismatic but self-destructive and closeted movie star for whom Jules feels a powerful attraction. Robin's in town promoting his latest film-and Gordon Burns is a star-struck movie buff. With Robin and Jules's help, Ric and Annie are soon entrenched in Burns's organization, surrounded by killers who may already have executed an FBI infiltrator. Before long the couple realizes that many more lives besides their own will be at stake if they make a false move. As the heat between them reaches dangerous levels, so do the risks they're willing to take-in the line of duty, for the sake of loyalty, and in the name of something that runs even deeper. From the Hardcover edition.
About the Author
After childhood plans to become the captain of a starship didn't pan out, Suzanne Brockmann took her fascination with military history, her respect for the men and women who serve, her reverence for diversity, and her love of storytelling and explored brave new worlds as a New York Times bestselling romance author. Over the past twenty years, she has written more than fifty novels, including her award-winning Troubleshooters series about Navy SEAL heroes and the women--and sometimes men--who win their hearts. In addition to writing books, Suzanne Brockmann has co-produced a feature-length movie, the award-winning romantic comedy The Perfect Wedding, which she co-wrote with her husband, Ed Gaffney, and their son, Jason. She has also co-written a YA novel, set in the world of her paranormal Fighting Destiny series, with her daughter, Melanie. Find Suzanne Brockmann on Facebook, follow her on Twitter, and visit her website to find out more about upcoming releases and appearances.
Praise For Force of Nature (Troubleshooters #11)…
PRAISE FOR SUZANNE BROCKMANN

Into the Storm

"Sexy, suspenseful, and irresistible . . . [this] novel has all the right ingredients, including terrific characters [and] a riveting plot rich in action and adventure."
–Booklist

"Brockman is an undisputed master at writing military and suspense fiction [with] action, danger and passion all rolled into one."
–curledup.com

Breaking Point

"Readers will be on the edge of their seats."
–Library Journal

"An action-packed breathtaking thriller."
–Romantic Times (Top Pick!)
Advertisement